UC's Newman Center hopes for lasting impression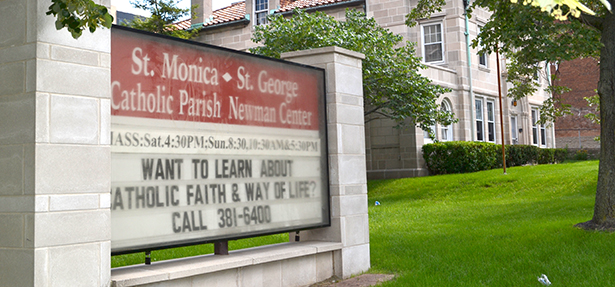 September 2013

By Patricia McGeever
For The Catholic Telegraph 
Stepping foot on a college campus can be intimidating for freshman, especially a campus the size of the University of Cincinnati. That's why different student groups and organizations pull out all the stops to greet, welcome and hopefully make a lasting impression on them.
Campus ministers from the St. Monica-St. George Parish Newman Center are making a strong effort to be visible to Catholic students and invite them to participate in both religious and recreational activities.
"Because UC is so big it's easy for students to get lost in the shuffle," says Congregation of Divine Providence Sister Leslie Keener, campus minister. "And we don't want them to get lost in the shuffle. We want them to have friends and community and people who are looking out for them, people who know who they are so that no student is invisible."
To that end, campus ministers and their student interns planned a series of events to connect with Catholic students. Because most campus ministry offices are on the outskirts of the UC campus, Sister Leslie says it's important for them to remain visible. Classes resumed Aug. 26 , and the campus ministers welcomed students with an ice cream sandwich social. The following night, an event geared more toward faith was held, and later in the week, they played glow-in-the-dark Frisbee.
Every Thursday night, there is a free dinner served at the St. Monica-St. George Catholic Center Hall beginning at 5:30 p.m.. The first one was catered, but the rest throughout the year will be prepared by students. Anyone who wants to attend but doesn't want to walk alone can arrange to have classmates meet and walk with them. That's also what campus ministers and student leaders will do for those who want to attend Mass on Sunday. They wear easily recognizable shirts and meet at an appointed time at a dorm before heading over to church.
"The person I lived with last year is now one of my best friends and we met because there was 'a meet at the dorm if you want to go to Mass,'" says Johnny Dwyer, a third year student and campus ministry intern. "We went to church together and then we lived together last year."
Rounding out the first week back at school is Mass on the Grass, held Aug. 30 at 12:20 p.m. in McMicken Commons.
Some students feel Welcome Week can be overwhelming.
"It is sensory overload," says fifth year student and campus ministry intern Clare Joyce. "It does pose and interesting challenge when we're planning it. How do we stick out and how do we get those students in."
Joyce says her mother made it a point to locate a church on their very first campus visit from Cleveland. She says her mother felt comfortable knowing she would be attending St. Monica-St. George.
"Not everyone has a parent that says, hey, this is the church that you're going to," says Joyce. "So it's important to find them and make sure that we're offering that right off the bat."
Laura Benrey comes to UC from Lexington. She did research online to find out how she could become more involved in the faith community on campus.
But for every pro-active Joyce and Benrey there are other students who benefit from the efforts of the ministry team. They don't pressure the students but meet them where they are on the faith spectrum.
"If a student is kind of hanging on by a thread about being Catholic we want them to feel as comfortable as someone who is really committed to their faith," says campus minister Michael Schreiner. "We want to be a place where both of those people feel welcome."
The team is hoping its hard work pays off. They know that first impressions are crucial.
"Research shows that within the first two weeks of school, whatever you get involved with in that first two weeks is what you'll be doing at the end," says campus minister Franciscan Brother Michael Charron. "So reaching out to students is very important, especially at the beginning."