Vocation office releases new video on college seminary life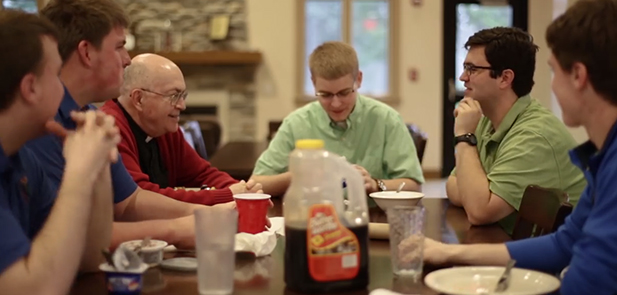 Staff Report
Late last month the Vocations Office of the Archdiocese of Cincinnati released a new video depicting the life of seminarians discerning their call to the priesthood in college seminary at Bishop Simon Brute in Indianapolis and the Pontifical College Josephinum in Columbus.
See the full video below
Men studying to become priests for the Archdiocese of Cincinnati typically attend collegiate or undergraduate seminary at one of the aforementioned institutions before doing the graduate level work at Mount St. Mary's Seminary at the Athenaeum of Ohio.
The videos are presented to young men attending Andrew Dinners, events hosted by Archbishop Dennis M. Schnurr designed to introduce youths to a potential priestly vocation. The new video replaces an older one that was filmed back in 2009. The new video will be debuted at an Andrew Dinner in the fall.
"This video was created because our last college-focused seminary video was getting old," said Wayne Topp, Associate Vocations Director. "In fact, one of the men in that video is entering his final year of formation and will be ordained a priest at the end of this year.
"Like our last college seminary video, the main purpose of this video is to present it to the men at our annual Andrew Dinners held throughout the archdiocese but we encourage anybody who ministers to young men in anyway (teachers, youth ministers, parents, etc.) to feel free to watch this with those men and talk to them about their reactions to it," he added. "Perhaps, with God's grace, this video can light a spark in a young man who hadn't thought seriously about his call to the priesthood in the past."
In the nearly 10-minute video produced by Cincinnati-based U.S. Digital Partners, young men describe what led them to enter college seminary to discern whether God is calling them to be priests. It also shows their daily life as they workout, play football, pray, eat meals and basically act like one would expect a group of college-aged men to act.
"We wanted everyone who watches this video to understand that by entering seminary, you don't miss out on college life, but you also get so much more than the regular college experience," Topp said. "You can hear in the stories being told that most of the men who enter college seminary do so without a certainty that they will be ordained a priest or that they are definitely called to the priesthood. It is a calling that all men struggle with throughout their time in formation and that is a very positive thing. That means they have entered the seminary for the right reason, to discern God's will for their lives."
The video had roughly 400 views in its first week online.
Posted July 2, 2015