Catholic At Home: Waiting for Hope

I traveled to Iceland in August. After years of wishing, planning and saving, I was at last on board a 757 headed east to Reykjavik, to start a six-day solo trip across the Icelandic south coast.
During my years of preparation, the trip became a beacon of hope. When overwhelmed or tired, I looked at photos and maps of places I planned to visit and, even though I was stuck in a waiting period, I knew it was only a matter of time before my plans were realized.
You've waited, too. For your wedding. For a baby to be born. To move into a new home. Or maybe for the slow-roast of ribs.
Whatever it is, we have experienced anticipation for a certain event that calls for heroic patience. While painstaking, we catch glimpses of the coming joy, like feeling a baby kicking in utero.
Consider the waiting you've endured that challenged your patience, or even your faith. It's this anticipation that the whole world endured, not just for nine months or a few years, but for millennia. In Genesis 3:15, the promise of a Savior came just after Adam and Eve's sin broke the harmony between God and humanity. Generations held their breath for the One Who would restore our relationship with our Creator to its state before the darkness of sin.
It's hard to comprehend waiting being built into a culture, as happened with the Israelites; and I can't conceive how difficult it was to stay hopeful for so very long.
Father Mike Schmitz says that hope is "trust in another, extended into the future." Founded on the consistency of another's behavior, it's the certainty that the same behavior will continue. For the world fallen from that lovely relationship in the Garden, hope draws our attention to God's faithfulness. Again and again, He pursues His people, making covenants then forgiving them every time they turn away from Him. Recalling God's faithfulness, despite the long wait the Israelites could rightfully hope for the promised Messiah.
Before Jesus, thousands waited their entire lives never knowing when He would come. So consider the simultaneous relief, thrill and joy that Jesus' coming offers, both at His birth and now; because the Incarnation isn't a one- time event, but the start of something that never ends – an open door that never shuts.
How is this relevant now? Despite the uncertainties and pains of life, we can hope in the Lord. We can be confident that He will handle everything we entrust to Him as He continuously works for our benefit. Psalm 143 reads "I muse on what your hand has wrought." This verse encourages me to look back at how God upheld me through high-risk pregnancies, trials in our marriage and fluctuating faith within my soul, from these build hope that He will do the same tomorrow, come what may. My husband says "God hasn't abandoned us so far and He's not going to start now."
Let yourself be reminded of God's faithfulness and consistency this Christmas as we rejoice over the ultimate promise fulfilled. When man broke his relationship with God, the Lord promised a Savior, then delivered. Learn to recognize His work by musing on what His hands have wrought in your own life, both by reconciling yourself to Him in Confession and receiving His life in Holy Communion. Go see how Jesus keeps His word.
The thrill of hope, the weary soul rejoices For yonder breaks a new a glorious morn!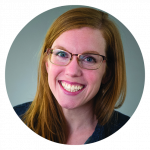 Katie Sciba is a national speaker and Catholic Press Award-winning columnist. Katie and her husband, Andrew, have been married for 14 years and are blessed with six children.
This article appeared in the December 2021 edition of The Catholic Telegraph Magazine. For your complimentary subscription, click here.