Beyond the Field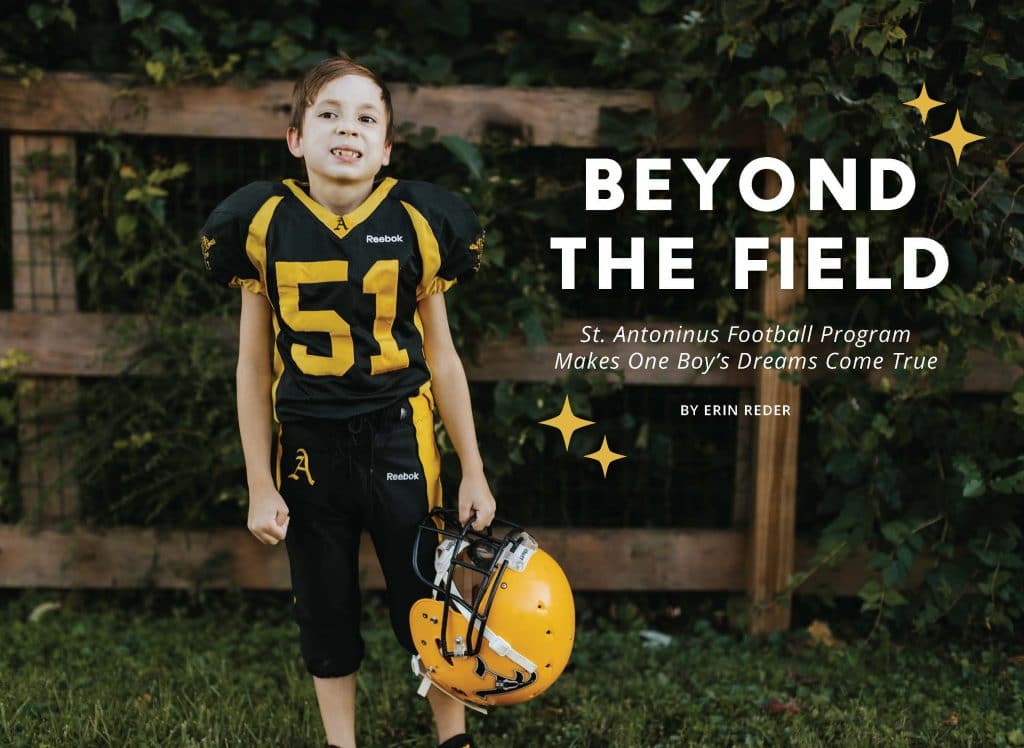 True sportsmanship goes beyond the actions and play on a field or court. It encompasses respect, graciousness and support for one another. This football season the St. Antoninus (St. A) Bandit division football team and its opponents collaborated in support of one special boy: Braxtin Gruber. Braxtin dreamed of playing football, but due to Dravet Syndrome and Lennox-Gastuat Syndrome, life-long forms of epilepsy that cause many health-related issues, he has been unable to play – until now!
His mother, Katie Gruber, shared that the football coaches from St. Antoninus (where Braxtin's sister, Addy, attends and his aunt, Emily, teaches first grade) contacted her and her husband, Mark, inviting Braxtin to join their team. Conversations followed with coaches and the St. A football coordinator to explain the complexity of Braxtin's diagnosis and how careful he needed to be. All were excited and willing to adapt for those conditions to ensure that Braxtin could participate in the safest way possible. Since then, he's practiced with the team, getting to know his teammates and enjoying the opportunity to be part of something he loves.
"Having Braxtin as part of the football team as a St. A Jaguar creates a good vibe!" said St. A's Bandit division coach Andy Wagner. "Seeing him with his teammates interacting at practice is pretty cool and really allows you to focus on what is important, which is for these boys to have fun and be a part of a team. It's made me a better coach, allowing me to step back and see the bigger picture of how that looks."
On Aug. 21, number 51 suited up to play in his first football game. St. Antoninus coaches explained Braxtin's unique situation to the opposing team's coaches, and together they ensured he had the chance to get the ball but not get tackled. The moment was truly special for coaches, teammates and fans. When Braxtin scored his very first touchdown, not only St. Antoninus fans cheered; both sidelines erupted in support and joy!
"It is an amazing feeling as a teacher of St. Antoninus watching the community support and embrace Braxtin. It fills my heart with so much joy to watch him being included and doing something that he has always dreamed of doing," said Braxtin's aunt, Emily.
Coordinating with opposing teams has been effortless, said his parents, as each has been more than willing to get Braxtin involved. "To see the extent that all of these coaches have gone to help their team understand what needs to happen on the field is remarkable! The sportsmanship has been unbelievable. How often do you see kids from the opposing team congratulate the opposing player for making a touchdown against them?"
For the boy who has dreams of being an Elder Panther and future NFL player, this opportunity turned those dreams into reality. Since Aug. 21, Braxtin played in multiple games as a team player, even as the quarterback with a chance to throw a touchdown pass. "Watching Braxtin out there scoring touchdowns just makes you happy," says Wagner, "and by the way, he has the best touchdown celebration on the team!"
"The opportunity that the coaches and coordinator at St. Antoninus have afforded Braxtin is beyond words," said Mark and Katie. "To look at our 8-year-old little boy and see the happiness these people and the community have given him is a dream come true, not just for Braxtin but for his entire family. They have given him a sense of belonging, being part of a team that accepts him and
his limitations, and allows him the feeling of being like everyone else."
"I don't think you can find anybody who isn't a fan of Braxtin," adds St. A Bandit coach Scott Sacay. "We love having him on the team and the coaches are thrilled to play a small part in his journey. We are doing what we can to make this year memorable for him and can't wait to have this big Elder fan run a touchdown in at The Pit and have his name called."
The Grubers hearts are filled with gratitude for the St. Antoninus community that embraced their son and that reminds us of what is truly important. "Our hope is that by seeing how these coaches and coordinator have made something special happen for our son, others will be encouraged to do the same and pay it forward for someone else. Saying thank you to everyone who has been involved just doesn't seem like enough. Their kindness has been inspiring and appreciated beyond words."
This article appeared in the December 2021 edition of The Catholic Telegraph Magazine. For your complimentary subscription, click here.