Walking with Moms in Need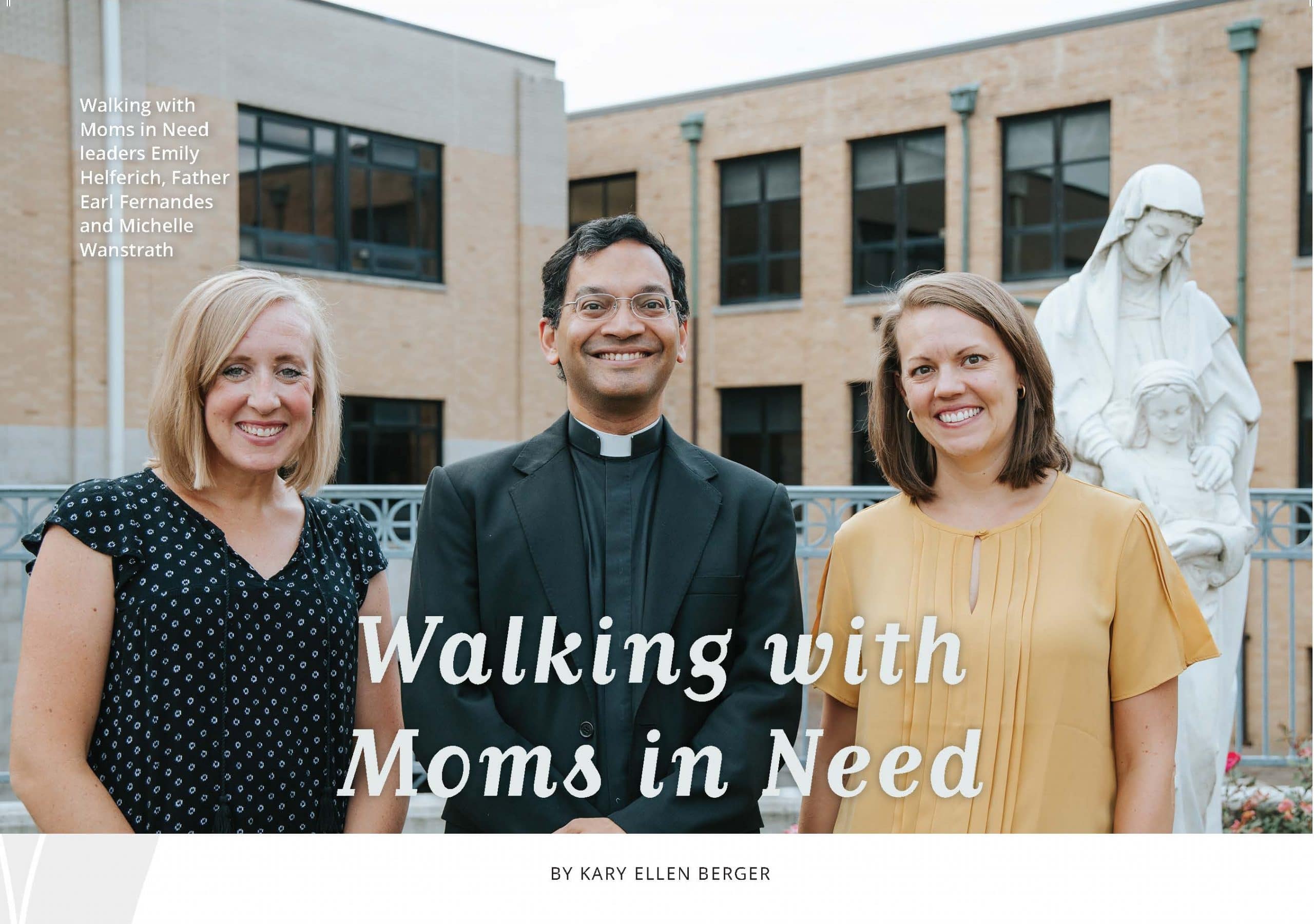 Ask most moms and they will tell you that any extra set of hands or help with their children is appreciated. For mothers who are doing everything on their own though, that extra help goes much further. That's where the Walking with Moms in Need program can be a welcomed blessing.
"The idea of Walking with Moms in Need emerged from the 25th anniversary of Pope John Paul II's encyclical letter, The Gospel of Life," said Father Earl Fernandes, pastor of St. Ignatius of Loyola Parish. "The USCCB Pro-Life Scretariat proposed the initiative to begin in March 2020."
This program, which was designed for Catholic parishes across the nation, was put on pause at many churches because of COVID-19. At the beginning of this year, Father Fernandes began working with his parishioners and the church's already established Mom's Ministry group to make the program a reality at St. Ignatius of Loyola Church.
"During this initial year of service, our main goal is to develop a website that can encompass all of this amazing information so it can be beneficial to the people who need it most," said the parish's program co-leader, Emily Helferich. "All of this information is so incredibly important, but it is useless if the people who need it most do not know about it. We are currently partnering with the Archdiocese of Cincinnati to develop a website that can house this information so it can benefit more than just our [parish's] community."
Co-leader, Michelle Wanstrath, agreed, "We do already have parish ministries that help provide emotional support to those in need or organize meal trains for new moms in the parish. So our team continued brainstorming ways our St. Ignatius community could help moms in need that may not have been thought about before."
The program's purpose is not only to help mothers who are pregnant but those who may need assistance after the baby is born. St. Ignatius of Loyola leaders say this speaks directly to the Church's belief of respect for life.
"When a woman chooses life, she needs to then feel supported by her community," Wanstrath said. "It is one thing to pray, which is very important and we need to continue to pray, but we want to act as well. Walking with Moms in Need strives to provide help and support after that mom has said yes to life. What's next? Where can she turn? Those are the questions we want to help answer."
"Too often the Catholic Church is falsely accused of being concerned with the unborn and being unconcerned with women and children," Father Fernandes said. "Nothing could be further from the truth. The dedication of people like Emily and Michelle and their core team is a living reminder to me of lay people being a leaven in the world. The initiative encourages prayer, compassion and action. It puts flesh on the Gospel of Life."
While the program's leaders believe the initiative will officially be activated in the coming months, they also hope the mission will continue for many years to come.
"We are in the process of applying to be the first chapter in Cincinnati and hope to host a baby shower for a mom in the next year," Helferich said. "In thinking five years out, our goal would be that this is intertwined within all that we do at our parish and that more parishes in the archdiocese have started [Walking with Moms in Need] as well."
While St. Ignatius of Loyola would be the first in the Archdiocese of Cincinnati to create a Walking with Moms in Need chapter, they hope they're not the only ones to embrace this program. Parishioners interested in learning more about the Walking with Moms initiative can visit walkingwithmoms.com.
This article appeared in the October edition of The Catholic Telegraph Magazine. For your complimentary subscription, click here.