Walking with Moms: Parenting Support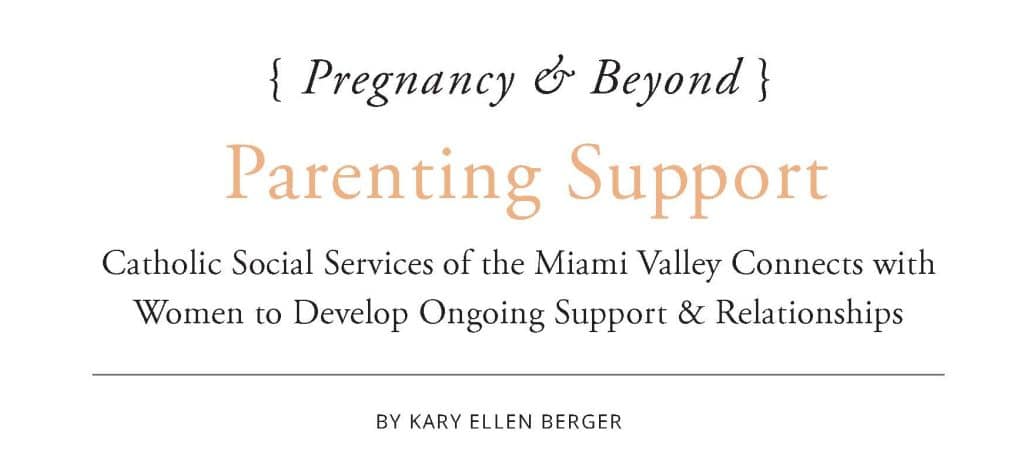 A commitment to serving parents before, during, and after pregnancy is one of the many ways Catholic Social Services of Miami Valley (CSSMV) makes a difference for families in the northern part of the archdiocese.
Laura Roesch, the Chief Executive Officer of CSSMV, said around 1,750 individuals were served through the organization's Pregnancy & Parenting Support program in 2021, and it assisted thousands more families since its initiation in the 1980s.
"A majority of these individuals are served through our community health outreach," said Roesch. "We target underserved neighborhoods where there are high rates of infant mortality. We identify pregnant women and women with children under the age of one. We assess their needs, access to resources, and connect them to those resources that will help them have healthier birth outcomes and improve maternal wellness."
Meeting families where they are in the community is an essential aspect of CSSMV's program, and its person- centered approach is also what makes CSSMV's outreach unique.
"We are intentionally out in the community to make those connections…" said Roesch. "We're finding women who are in need of deeper services and then can develop a more ongoing relationship — setting goals, checking in and more active case management."
Roesch added that focusing on present and future opportunities for both mother and child is critical to CSSMV's program.
"We offer parenting and co- parenting education, early child development where we teach about developmental milestones, and we also work in schools," said Roesch. "For example, we have a program called Teen Parents Learn where our focus is to keep that young mom in school, support her to graduate, and then work towards developments of plans for additional schooling, vocational training, or other post-graduate credentials. We ask, 'What do you want to be in the future and how can we help you get there?'"
The Pregnancy & Parenting Support program not only supports mom and baby, but the mother's partner too, if he expresses interest in being involved.
If a woman is still with her partner and he is engaged in a healthy way to support his partner and support his child, then we involve him in these activities as well," shared Roesch. "We recognize that children do best when they have two healthy involved parents in their lives."
Roesch noted, "Family is the cornerstone of society—there are lots of different kinds of families. So… working to support young moms who are wanting the very best for themselves and their children is an important commitment for the mission of our organization."
For the next Walking with Moms article, click here.
This article appeared in the July 2022 edition of The Catholic Telegraph Magazine. For your complimentary subscription, click here.