"We Bring the Love" Foster Grandparents Enhance Community One Classroom at a Time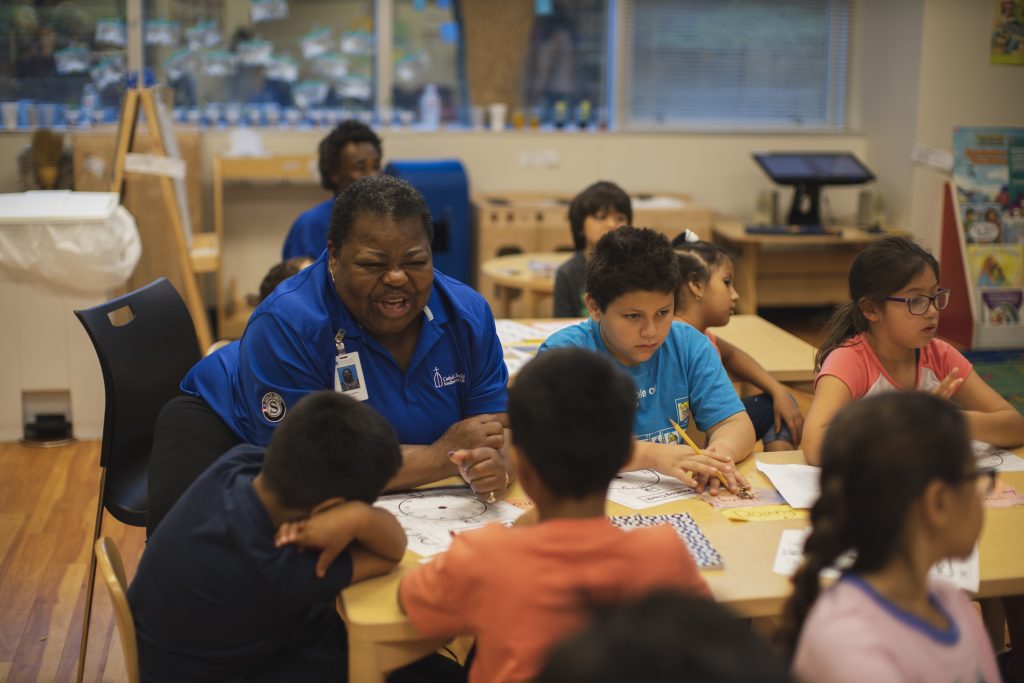 When you meet JoEtta Oglesby, it's impossible not to get caught up in her abundant joy and buoyant personality. As she will readily tell you, much of her joy comes from spending her days volunteering as a foster grandparent, assisting children in the classroom through Catholic Charities' Senior Corps program.
One peek into a classroom full of second graders and it's easy to see why Oglesby faithfully goes to school every day. The children gravitate toward her and she to them. When she notices a student not completing a worksheet like the others, she quietly sits down, asks him what's going on and then leans in to encourage his progress before breaking into a brilliant smile.
Oglesby is one of more than 60 volunteers actively participating in Catholic Charities of Southwestern Ohio (CCSWO)'s foster grandparent program. The Senior Corps program has been part of CCSWO since its inception more than 50 years ago. Through the program, low-income seniors are paired with schools where they serve in the classroom as foster grandparents or with other older seniors, volunteering as senior companions.
"Senior Corps takes low-income seniors and provides them with a stipend. They make a couple dollars an hour for a volunteer stipend … and it's not taxable – that's why the program works. It doesn't go against anyone's Social Security," said CCSWO's CEO Ted Bergh. "So many Senior Corps volunteers participate in 20 or more hours a week."
Aaron Glauberman, Director of Senior Corps for CCSWO, said the Corporation for National Community Service completed a study in February showing the positive impact that participating in these programs has in seniors' lives. In addition to financial assistance, these seniors are "able to get up, be active and have an impact in someone else's life."
And with Oglesby, the impact is clear. "It's an opportunity to give your best back. Because once you get around this age, you really get like, 'Who needs me? Where do I go?' I don't want to sit in a senior citizens home all day. But this way, I'm needed. They need me," she said. She found out about the program by accident. She noticed women in the senior building where she lives going out to work each day – something she didn't think was allowed because of their fixed incomes. She flagged one of them down and asked where they were going. When they told her about Senior Corps, Oglesby headed straight to orientation and, from there, she declared, "I was hooked!"
She jumped right in, volunteering with middle school students at St. Joseph Catholic School in Cincinnati.
"I caught the buses for a little while, the next thing I know I have a new car. Imagine that on my volunteer salary. I never thought I'd ever be able to own a car!" said Oglesby.
She used that blessing to make sure she was never late to school and never missed a single day with her students.
Though not Catholic, Oglesby marvels at where God has placed her.
"I learned all the Catholic saints and I learned the whole program … Then at school they have the religion class every day and they go to church every Friday. So all the good stuff in me just started coming out. This is my calling. God connected me directly," she said.
She wanted to continue working through the summer but didn't think it would be possible with the school summer break. Fortunately, though, CCSWO has partnered their programs to help one another, and foster grandparents are no exception. Enter Vacaciones Útiles, a summer program run by volunteers to help Latino children ages preschool through second grade keep up their academics over the summer.
To her delight, Oglesby was paired with the Vacaciones Útiles program. "I came here and I saw all these little kids. … They were the cutest, sweetest, special. I love these kids. I wish I was with them longer than just these eight weeks," she said.
"The volunteers in the classroom act as mentors. They work one-on-one with students," said Glauberman. "They're not teachers, so they're able to focus more time on students in the classroom who have the need, [rather] than focusing on the classroom as a whole, like the teacher."
"The biggest benefit [of this program] for the community is being able to keep these seniors active and have them make a positive impact in the lives of youth within Cincinnati," said Glauberman.
Bergh agreed, "Catholic Charities works to serve, enlighten and empower. So with these seniors, they're serving vulnerable populations… Generally they're serving low-income communities, people who are poor. And we're giving seniors an opportunity to serve. We have – and Senior Corps is a big part of this – we have over 4,000 volunteers that put up about 140,000 hours, many of those in the Senior Corps program … It's about what the community does and how Catholics and individuals get engaged in God's work and bringing mercy to the community."
And just as these senior volunteers serve their community, so too do they benefit from their time spent in classrooms.
"They give me the satisfaction of knowing that I've done something for someone who I don't know, who I may not ever see again day by day, so today let's just make this be a good day for us just in case I don't see you tomorrow. I just feel good about that," said Oglesby.
She added, "I think all schools should have lots of grandparents, because we've got the love. We've got it. It's not based on race or religion or nothing, it's just in there."
"Senior Corps is a nice little program," said Bergh. "It does great work, it gets seniors out, it gets seniors a little income. It fits right in with the Catholic Charities' mission to serve by getting people involved."
For more on Catholic Charities of Southwestern Ohio (CCSWO)'s foster grandparent program, click here