Back to School at 54 Chatfield Student Overcame Obstacles and Gives Back to the Community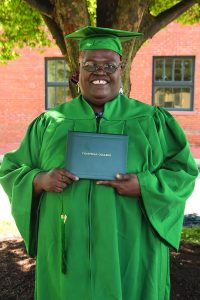 By Eileen Connelly, OSU
You're never too old to go back to school. Just ask Elizabeth Burnside.
At 54, the mother of two and grandmother of four began classes at Chatfield College, working toward an associate degree in liberal arts. Burnside admittedly overcame many obstacles in order to continue her education, including beating a drug addiction years ago, and she credits the support of her family and her own deep faith with giving her the courage to follow her dreams.
Before enrolling at Chatfield, Burnside was involved with mentoring Miami University students who were preparing to teach in urban schools. A visit from a Chatfield admissions counselor inspired her to investigate the college further, and she felt it would be a good fit.
Founded by the Ursulines of Brown County, Chatfield offers classes at campuses in rural St. Martin and Cincinnati's Over-the-Rhine. The college serves a diverse student population, welcoming students of all religions, ages and backgrounds. "We're pretty inclusive in the way we function," explained Ursuline Sister Patricia Homan, congregational minister, noting that students have ongoing opportunities for spiritual development. These include an opening prayer service at the start of every academic year, services during Lent and Advent and campus ministry and community service activities.
As Burnside settled in at Chatfield, she found a welcoming, supportive community among the faculty and her fellow students. The small class sizes and the campus mentoring and tutoring programs were helpful. "It was a good feeling to know that I could ask for help and not be embarrassed because I knew I wasn't the only one who needed it."
Before long, it became Burnside's personal goal to welcome new students and offer her assistance. "If I saw a student struggling, I wanted to help, especially since I've received so much support. I feel like that's one reason God sent me to Chatfield," she said.
Along with her full course load, Burnside became actively involved in the Chatfield Student Service Club (CSSC) at the OTR campus. Under her leadership, the group organized several projects, including gathering hurricane relief supplies for Matthew 25 Ministries and volunteering at the Freestore Foodbank in Cincinnati.
"It was my way of giving back to the community," Burnside explained. "I appreciate whatever a person does for me, so if there's a way I can help someone else, then I will. That's how we share our blessings. Besides, God gave His son to us, and that's the greatest gift."
"Elizabeth's leadership and participation were significant, and her faith is tremendous," said Sister Patricia, who served as campus minister and site director during Burnside's time as a student. "As an older student, she felt like her time had passed, but we didn't believe that for a minute because she was so determined. She really blossomed into the leadership that she took on and was an example for me."
Burnside has the following advice for anyone of any age who is considering returning to school: "Start slow if you need to; one class a semester is still a start. If you try it, you'll have help if you need it. Do not get discouraged. You are not too old."
Burnside graduated from Chatfield in May and will begin classes in late August at Mount St. Joseph University, where she plans to major in early childhood education. She ultimately hopes to start a daycare center in Over-the-Rhine. "That's my community," she emphasized. "A lot of parents there are struggling to find work and good childcare. This will be my way of giving back. I wouldn't have made it this far without all of the people who helped me, and none of this would be possible without God."