Week 6 standings and week 7 opponents for Catholic High School football teams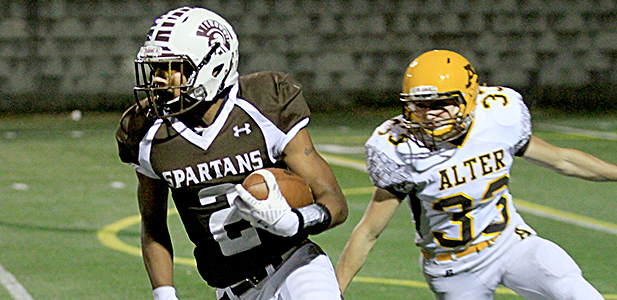 Staff Report
The Archdiocese of Cincinnati's two unbeaten teams continue to steam along as conference play begins to get serious. By this point clear favorites are emerging to win each league and for many, the attention is already on playoff scenarios.
If the season ended before this weekend's games, six of the 15 schools from the archdiocese would make the post season.The six who would make the cut so far are LaSalle, St. Xavier, Elder, Fenwick, Alter and Badin. With four games remaining heading into tonight, nobody is eliminated.
Tonights biggest matchup is probably LaSalle at St. Xavier — the battle of North Bend Road. The unbeaten Lancers are defending state champions as well as defending GCL South Champions. In the GCL Co-Ed Fenwick has an opportunity to get out to a commanding 4-0 league record if the Falcons can get past Purcell Marian.
Here are the standings through week six with week seven's opponents listed. For more information on game dates, times and location, see the HS football Master Schedule. Dates and times are subject to change.
Fun Fact: Lehman Catholic high school has never hosted a home football game on its own campus in more than 40 years of playing. That streak ends tonight as temporary stands and lights have been brought in for a unique homecoming celebration. The Cavaliers will face Hardin Northern (3-3) tonight at 7 p.m. — on campus.
Team                                  Week 6 Record                Week 7 opponent
GCL Co-Ed Standings
North
Fenwick                                  6-0 (3-0)                   at Purcell Marian (2-4)
Alter                                        5-1 (2-1)                   at Badin (5-1)
Chaminade Julienne               2-4 (2-1)                   at McNicholas (2-4)
Carroll                                     3-3 (1-2)                   at Roger Bacon (3-3)
Central
Badin                                     5-1 (2-1)                        Alter (5-1)
Purcell Marian                        2-4 (1-2)                       Fenwick (6-0)
McNicholas                            2-4 (1-2)                       Chaminade Julienne (2-4)
Roger Bacon                           3-3 (0-3)                      Carroll (3-3)

GCL South
LaSalle                                   6-0 (1-0)                     at St. Xavier (4-2)
Elder                                      5-1 (1-0)                      Moeller (2-4)
St. Xavier                               4-2 (1-1)                      LaSalle (6-0)
Moeller                                   2-4 (0-2)                      at Elder (5-1)
Other Catholic Schools
Lehman Catholic                      3-3 (2-1 NCC)               Hardin Northern (3-3)
Catholic Central                       3-3 (1-2 OHC)                at Mechanicsburg (6-0)
Summit  Country Day              3-3 (0-1 MVC)                 at CHCA (5-1)
Posted October 9, 2015