Throwback Thursday: Journalism education starts early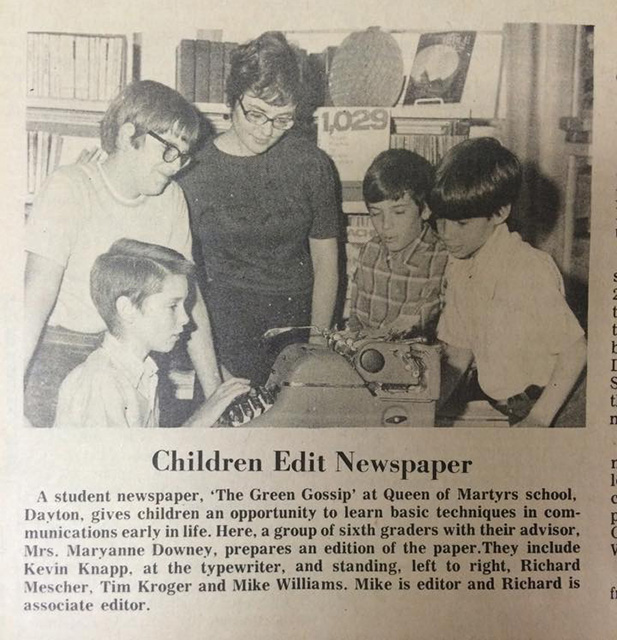 Staff Report
Many a reporter or editor remembers their first exposure to the industry often came at a student newspaper. Today's Throwback Thursday from the Nov. 19, 1971 edition of The Catholic Telegraph highlights some of Catholic education's contribution to the field.
Pictured is the staff of "The Green Gossip," a student newspaper published by sixth-graders of Queen of Martyrs school in Dayton, Ohio. 
The teacher advisor pictured is Mrs. Maryanne Downey.
Catholic education in the Archdiocese of Cincinnati continues to prepare and form students for a host of futures and careers as they discern their vocations in life. Queen of Martyrs school no longer exists. After consolidating with Resurrection and Corpus Christi, it later became Queen of Peace and is now known as St. Benedict the Moor. The school still publishes a newsletter, called The Rising Star.
Student newspapers teach valuable communications skills regardless of what career path a young boy or girl might take, but some will end up in the communications field.
All three members of The Catholic Telegraph editorial staff, for example, worked for student newspapers in high school and college.
Editor and General Manager Steve Trosley worked for Marquette High Schools' The Explorer and Illinois State University's Vidette.
News Editor Ursuline Sister Eileen Connelly wrote for her high school publication at St. Ursula, The Light, and Wilmington College's The Hourglass.
New Media Editor John Stegeman wrote for Western Hills High Schools' The Western Breeze and Shawnee State University's University Chronicle.
Welcome to The Catholic Telegraph's edition of Throwback Thursday. Throwback Thursday is a weekly online activity wherein users of social media share an old photo or anecdote about times gone by. We use Throwback Thursday to highlight the history of the Archdiocese of Cincinnati, and our publication.
Recent Throwback Thursdays
One more look at the papal visit
Make a newspaper into a papal miter
A glance at past papal pilgrimages
Did Cincinnati almost get a papal visit?
Sisters of the Poor rich in… Elephants?
Posted Oct. 8, 2015