Question of Faith: What happened to St. Joseph

When did St. Joseph die, and were Mary and Jesus with him? Where is he buried?
Joseph, the foster father of Jesus and the Virgin Mary's husband, has an important role in salvation history. Though we know relatively little about his life, he remains a model of fatherhood and the patron and protector of the universal Church. To highlight his significance, Pope Francis has proclaimed this year as the "Year of St. Joseph" (through Dec. 8, 2021).
THE JUST MAN

The Scriptures offer relatively few details about St. Joseph's life, but he is included in the narrative of Jesus' birth in the Gospels of Matthew and Luke. In Matthew, Joseph takes a primary role in the life of Mary and Jesus. He is called a "just man" (Mt 1:19) and is shown as a loving father and protector. In Luke's Gospel, St. Joseph is acknowledged, but remains in the background. There is no mention of him after he and Mary find 12-year-old Jesus in the Temple (Lk 2:42). St. Joseph is not found in any of the other New Testament books, including the Letters of St. Paul or the Acts of the Apostles.
THE ELDER
Non-biblical sources offer additional details on the life of St. Joseph, though they are considered unreliable. The Protevangelium of James (2nd Century), for instance, indicates that Joseph was an older man, a widower with six children, when he met Mary. According to the legend, a dove landed on him, signaling he was to be Mary's husband. But Joseph initially refused, saying, "I have children, and I am an old man, and she is a young girl." Though afraid, he consented to the betrothal.
Though some traditions place Joseph's age at Jesus' birth at 80 years, he was young enough to teach Jesus the carpenter's trade and lead the Holy Family on a potentially dangerous journey to Egypt. Whatever his age, both scriptural and non-scriptural sources depict him as a protector of Mary and Jesus.
DEATH AND BURIAL

Since the Scriptures are silent about St. Joseph's later years, we can conclude that he was no longer living by the time Jesus began his public ministry. It would be expected, for instance, that if Joseph were alive, he would have appeared at Christ's side (as Mary did) at the crucifixion (Jn. 19:26-27). According to various traditions, Joseph died when Jesus was an adolescent, perhaps in 18 or 19 AD.
A few other details, gleaned from sources outside the Bible, offer details of his death. Tradition held that Mary and Jesus were present with him, prompting artists to illustrate the Holy Family together as Joseph lay on his death bed. According to the History of Joseph the Carpenter (4th Century), as he breathed his last, he was visited by the archangels Michael and Gabriel.
The location of St. Joseph's burial is unknown. The Venerable Bede claimed he was buried in the Valley of Josaphat (possibly a reference to the Kidron Valley, between Jerusalem and the Mount of Olives). St. Jerome believed it was in the Garden of Gethsemane. However, it is more likely that he died and was buried in Nazareth, where the family lived when Jesus was a youth.
PATRON AND INTERCESSOR
As devotion to St. Joseph developed in the Church, the details of his life were less important than his witness and intercessory role. St. Joseph is the patron saint of a happy death, in part because of the tradition that Jesus and Mary were present when he died. He continues to offer prayers for Christians everywhere and is a special patron of fathers, workers, and travelers.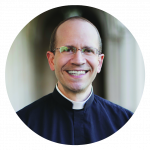 Father David Endres is associate professor of Church history and historical theology at Mount St. Mary's Seminary & School of Theology.
This article appeared in the March 2021 edition of The Catholic Telegraph Magazine. For your complimentary subscription, click here.