A Question of Faith: WHY BAPTIZE JESUS?

Why did Jesus need to be baptized? If Jesus is God, wouldn't baptism be unnecessary?
Many have considered this question throughout history, so it is a good one. When Jesus approached John the Baptist to be baptized, John replied, "I need to be baptized by you, and yet you are coming to me?" (Matt. 3:14) Like us, John was confused about why his sinless cousin – the long-expected Messiah who would baptize with the Holy Spirit and fire – needed to undergo a baptism of repentance.
Jesus responded to John mysteriously: "Allow it now; for thus it is fitting for us to fulfill all righteousness" (Matt. 3:15). What does Jesus mean by righteousness? We will consider three reasons for Jesus' baptism based on different interpretations of "righteousness": the entirety of God's salvific plan, the redemption won by Jesus and our salvation in Christ.
GOD'S PLAN FROM THE BEGINNING
Righteousness means standing in right relationship with God. Because of sin, humanity has broken this relationship. Thankfully, though, God works to bring humanity back to Himself, and this return to righteousness is the story of the Old Testament. When Jesus says that His baptism will fulfill all righteousness, He testifies that He will accomplish all of God's promises to Israel.
His baptism invokes various events in salvation history. Biblical scholars point out several Old Testament connections to Jesus's baptism: After baptism, a dove descends on the water like at Creation (Gen. 1:2); Jesus is called "beloved" like the sacrificial Isaac (Gen. 22); Jesus is called the son as prophesied by David (Ps. 2; and Jesus is washed and anointed by the son of a priest (like King Solomon in 1 Kings 1). In His baptism, Jesus ushers in the new Creation as the beloved, sacrificial Son of God and King of Israel.
REDEMPTION THROUGH JESUS
Righteousness can refer more specifically to Jesus' own work of redemption. John preached his baptism of conversion to sinners. The act of going down into the water symbolized cleansing and putting to death one's sinful self, and coming up from the water represented the hope of new life. When Jesus consented to baptism, He placed Himself alongside sinners.
Even more, Jesus takes our sins upon Himself in baptism. As Paul says of Jesus, "For our sake He made Him to be sin who did not know sin, so that we might become the righteousness of God in Him" (2 Cor. 5:21). The baptism of Jesus points to the Cross where Jesus shouldered humanity's sins, put them to death, and gave us new life.
GRACE THROUGH BAPTISM
Finally, righteousness refers to the gift of salvation offered to each of us through baptism. Our baptism is different from John's since his was symbolic, while our baptism imparts grace. Many Church Fathers argue that Jesus gave sacramental power to the Church's baptism when He was baptized. As St. Augustine said, "The Savior willed to be baptized not that He might Himself be cleansed, but to cleanse the water for us." Jesus was baptized not because He was a sinner, but because we are sinners. Unlike Him, we need more than a symbolic ritual to overcome our sins; we need the grace and power of God through baptism.
The baptism of Jesus simultaneously fulfilled all the messianic hopes of the Old Testament, began Jesus's public work of redemption, and initiated the supernatural effects of baptism. Though Jesus never knew sin, He was baptized to fulfill all righteousness – for Israel, the world, and us.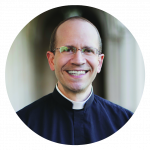 Father David Endres is associate professor of Church history and historical theology at Mount St. Mary's Seminary & School of Theology.
This article appeared in the January 2021 edition of The Catholic Telegraph Magazine. For your complimentary subscription, click here.