Wrestle & Prevail: Proper understanding of sports can lead to stronger faith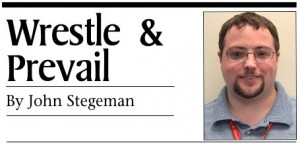 From the Greater Catholic League to Xavier and Dayton universities' athletic programs, sports are a major part of life for people in this archdiocese. The appeal of athletics is not limited to Catholics, of course, but our faith allows us to view competition in special way.
Sports fans have been around since before the time of Christ. The Bible writers knew this, and used sports to help teach and explain the faith, and still today we can use sports for the same purpose.
I'm newly returned to town and this is just my third month with The Catholic Telegraph. I spent the last eight years or so working in sports as a sports writer and later as an editor at a sports publishing company. Sports are a multi-million dollar industry for some, and an obsession for others. Properly in context, however, sports can be a major benefit to society and to an individual's faith.
In 2 Timothy 2:5 we read, "And in the case of an athlete, no one is crowned without competing according to the rules."
As Catholics, we know that if we wish to live in friendship with God, we must live according to the rules. We also read in 2 Timothy 4:7, "I have fought the good fight, I have finished the course, I have kept the faith; in the future there is laid up for me the crown of righteousness…"
So that is what we do. We strive to follow the rules, finish the course and keep the faith. We do this in the hope that in the future there will be a crown of righteousness laid up for us in heaven.
Looking at my own life, I see many times I have deviated from the course. I'm sure many of us have tried to skirt the rules to gain an advantage, or let doubt and worldly matters distract us from keeping the faith.
Lucky for us, our race is a marathon and not a sprint. We are called to "run with endurance the race set before us. (Hebrews 12:1)." Our race is judged not on how fast we reach the end, but in that we reach the end in the proper way. Our race is such that we must each run it our own way, while bearing in mind there is only one finish line.
Victory is not assured, though, and many will get lost along the course. In 1 Corinthians 9:24 we read, "Do you not know that in a race the runners all compete, but only one receives the prize? Run in such a way that you may win it."
That passage in 1 Corinthians, and the following verses, is my favorite biblical reference to sports. Here's the rest, through verse 27, "Athletes exercise self-control in all things; they do it to receive a perishable wreath, but we an imperishable one. So I do not run aimlessly, nor do I box as though beating the air; but I punish my body and enslave it, so that after proclaiming to others I myself should not be disqualified."
What Paul shows us here is that sports has a place. Athletic glory belongs to this world and is fleeting. While sports are fun, and can be important to us, we must remember that the best athlete in the world can win only a perishable wreath. And even then, these athletes are fallible men and women, just like Mark McGwire, Lance Armstrong or any other athlete who has fallen from grace.
As Catholics we must strive for the imperishable. We must strive to live in Christ, and do all things for the sake of the Gospel.
I hope to make this column a regular look at sports in the archdiocese. We'll take a look at the marriage of faith and athletics that has a rich history here, and examine the many ways that sports can grow our faith and the faith of many young people in the area.
I was a wrestler (though not a very good one) in high school at Western Hills so the story of Jacob wrestling an angel always resonated with me. The name of this column comes from the first line of Hosea 12:4, "Yes, he wrestled with the angel and prevailed." That is the goal we all have in life, to wrestle with our challenges, our demons, and sometimes even with angels, and to prevail.
The scores of Crosstown Classic, the BCS national title game and the Super Bowl will pass away with this world. If we do not run aimlessly, however, when we meet God as our final referee we may find ourselves on the same roster as the saints.
+ + + + + +
John Stegeman is a staff reporter for The Catholic Telegraph.