Program helps DePaul Cristo Rey students prepare for future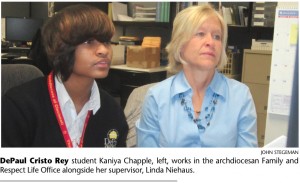 By Eileen Connelly, OSU
There's nothing like real-life experience to help young people prepare for the future and that's exactly the opportunity students at DePaul Cristo Rey (DPCR) have through the high school's unique Corporate Work Study Program (CWSP).
Sponsored by the Sisters of Charity of Cincinnati, DPCR welcomed its first freshman class on Aug. 17, 2011, as a member of the national Cristo Rey Network, comprised of high schools across the United States that provide a quality, Catholic, college preparatory education to young people who live in urban communities with limited educational options. Through the CWSP, students contribute to the cost of their education by working five full days a month at an assigned entry level position in a professional setting in the Cincinnati area. DPCR's Corporate Work Study partners include law firms, construction companies, colleges, hospitals, banks and the Archdiocese of Cincinnati.
Kaniya Chapple, for example, has been working in the archdiocesan Family and Respect Life Office since August, performing a variety of duties from answering the phone and greeting visitors to filing and copy work. Chapple, who attended grade school at the Hamilton County Mathematics and Science Academy, said the CWSP was the most appealing aspect of attending DPCR. "I hope to run my own law firm some day, so I liked the idea of gaining work experience in a professional setting," she explained. "Being here is teaching me to put my all into everything I do. I love the staff and my work here so much. I learn something new every day."
Through the example of the office's staff and the values instilled at DPCR, Chapple said one of the most important lessons she has learned is to put "put God first in everything you do. Coming to DePaul Cristo Rey was a leap of faith for me, but I've learned if you follow God and your heart, things will work out," she said.
Chapple was one of eight DPCR students recognized for their on the job excellence during the school's December Student Employee of the Month ceremony, attended by their peers, teachers, employers and family members.  Their selection was based on job evaluations completed by their supervisors, as well as their work attendance.
"I'm very appreciative that I was honored. It shows that hard work pays off." Chapple said.
Linda Niehaus, Chapple's supervisor in the Family and Respect Life Office, had a high praise for the young woman, saying, "From the very first day we met her, she has been a shining face. Kaniya arrives every Thursday with a smile and eager to get to work immediately. We have given her a variety of tasks; some can be repetitive and boring, but she completes (them) with no complaints. Some are new and challenging and she is always interested in learning and challenging herself."
The same holds true for Ryan Makin, who has been working in the Marketing and Communications Department at the College of Mount St. Joseph under the supervision of Kathleen Lundrigan, director, who said the young man is always looking for opportunities to learn and grow. "He's very bright, outgoing and full of energy," she said. "He seems to thrive on the variety and collaborative nature of the marketing department. He's learning how to work with different kinds of people and how to be adaptable and flexible. He's developing his skills and learning a strong work ethic and we find his young mind and energy refreshing."
Whether he's assisting with mailings or making up packets for incoming students, Makin, who attended St. Martin of Tours School in Cheviot, said, "The work study program is preparing me for real life and giving me a feel for what it's like in a professional setting. The whole staff is great and really fun to work with."
Rochelle Benton, who attended CSR Academy in Cincinnati for grade school and has been working at Catholic Health Initiatives under the supervision of Meloni Smith, executive assistant, clinical engineering/facilities management, said she appreciates the chance the work study program has given her to "go out on the job and see what it's like to be a professional position before we graduate."
She admits to initially being nervous about answering the telephone, one of her primary responsibilities. "The experience here has really built up my confidence," she said. "I'm much more comfortable talking to people now."
"It's been fun watching Rochelle develop her confidence, mature and grow," said Smith. "She exceeds our expectations on every project we give her. I think one of the biggest benefits to her has been learning about our core values and the faith dimension of our company, that it's important to work hard, but that there is always room for your faith and friendships, too. It's been a pleasure to mentor her."
Jesse Escobar, whose family is originally from Mexico, attended the Academy of Multilingual Immersion Studies for grade school and said he "fell in love" with DPCR the first time he visited the school and recognized the opportunities it offered him. "By being at work, we're putting ourselves in an adult position," he said. "That gives us a big advantage and more experience than other kids our age usually have. I'm learning the importance of faith, education and hard work at DePaul Cristo Rey."
Escobar works at the Society of St. Vincent de Paul-Cincinnati, assisting in the food pantry and with intake, along with doing clerical work. "I really like working with the clients," he said. "It makes me happy knowing that I've been able to help them. I really love the people I work with, too. They're happy for me to be there and they respect me. I feel like I'm part of a team."
Bob Mirenfeld, Escobar's supervisor at St. Vincent de Paul, said, "Jesse is an outstanding worker, stays on task very well and is willing to do whatever he's asked.  We're very happy to have him working with us and we're very supportive of the program at Cristo Rey."
Lisa Claytor, director of the CWSP at DePaul Cristo Rey, has witnessed what she describes as the transformative nature of the program, giving students the "opportunity to reinvent themselves," as they discover what is possible, what is out there in the world and their place in it. "Being in that professional environment enriches the students, gives them the chance to be comfortable working alongside adults, and teaches them good work habits such as the the importance of being on time, and that's no small task."
"The students are learning about respect and integrity, which are important values in corporate culture today. We're happy and thankful to be able to connect with our corporate partners on that level," she added. "At the core of what we do is build a community that builds God's love and recognizes Christ in everyone. That's where it starts."