Young Catholic Professionals: New Chapter Launches in Cincinnati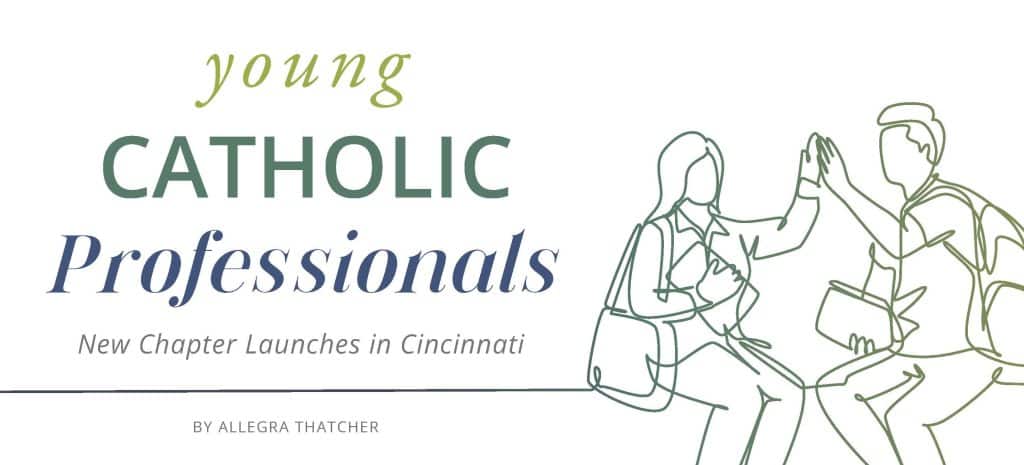 "A Catholic community catered around your everyday working person," is how chapter president Patrick Macke describes Young Catholic Professionals (YCP).
A few years in the making, the Cincinnati chapter of YCP launched at last in October. The local initiative was bolstered by friends and Cincinnati natives in the Columbus area, which had a chapter first.
Macke volunteered for the position of president as the leadership team formed, saying it seemed like a great fit. "I'm a Cincinnati native, a cradle Catholic, I know a lot of people around the Cincinnati area but also work in a typical secular profession, in human resources in the healthcare system," he said.
YCP's three goals are firstly to form a community centered around the faith for the everyday working person who is Catholic, and secondly, to serve as a launching point for Catholic entrepreneurs.
The third objective, according to Macke, is connecting young Catholic business people with seasoned professionals. "We want to form the next generation of leaders who make sure those businesses thrive," he said.
He also envisions a network of Catholic or Catholic-friendly business owners in the area. "Those are the places we want to support by having our events at, and encourage people to use their services —whether it's landscaping, IT work, alterations… to have a united front in that professional community so that when you give your money to a place, you know it's a place that supports your values and beliefs."
He said the most difficult part of the process has been getting donors and funding for the chapter. "Cincinnati is a very Catholic town, so there are many good things going on in the community already. So you really have to help people understand how YCP is unique from other groups."
YCP recruits board members from seasoned business professionals who are active in their parish communities, who often already invest in worthy causes. Macke and his team have recruited professionals who want to see young people passionate about their faith follow in their footsteps and support their parishes and communities in the future.
Moving forward, YCP will host two monthly events— happy hours and an executive speaker series. Local business owners and professionals will speak on professional and faith development, focusing on the topic of bringing faith to the workplace.
Macke said the launch party was very successful, with 150-200 attendees from a variety of communities. He said he was pleased with the diversity of age, profession and interests. Representatives of the board and the Columbus chapter were also present.
"It reflected that there is a lot of need for that type of community," said Macke. Those interested in finding out more can find the chapter at YCP Cincinnati on Facebook, ycpcincinnati. org or email [email protected].
While future events will be for members, all members receive a plus one ticket to each event, and the chapter hopes to continue inviting others in. Membership is only $3 per month in order to be accessible, and includes access to events, YCP National resources like podcasts and recorded webinars, access to mentors from the national database, and a 24/7 spiritual hotline.
They're also looking for additional board members from the professional business world, are always open to new members on the leadership team, and hope to get more involved at the parish level.
The final word, said Macke, is that YCP brings an unprecedented "hybrid of professional and spiritual development and a community that will support you in those things."
This article appeared in the December 2022 edition of The Catholic Telegraph Magazine. For your complimentary subscription, click here.