A Family of Vocations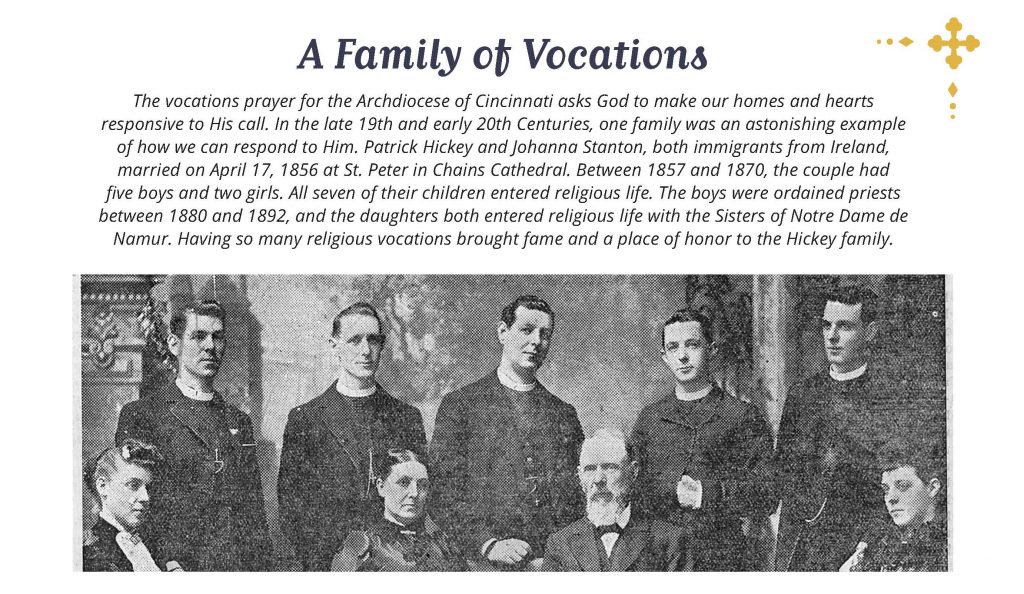 Patrick Hickey (1820-1892)
Patrick was well known to be honest in his business dealings with railroad companies, active in Catholic charitable works and a quiet, prayerful man who prayed the Rosary while traveling on the train to and from work.
Johanna Hickey (1833-1905)
Johanna was praised as a humble woman who provided a hospitable home and always made sure her children were in good company, enjoying the outdoors and had plenty to read.
Msgr. William Hickey (1857-1924)
When he completed his seminary studies, he was too young to be ordained, and had to wait a year. He spent the majority of his priestly life in Dayton.
Father Edward Hickey (1859-1921)
A popular pastor in Middletown at the time of his death, Father Edward took an interest in the moral development of boys and young men and built a gymnasium and swimming pool to keep young people in wholesome surroundings.
Msgr. John Hickey (1861-1938)
Serving in parishes from Chillicothe down to Norwood, he was known as "the orator" for the archdiocese and gained recognition for his patriotic speeches during the First World War.
Msgr. Charles Hickey (1863-1953)
The last living of the Hickey siblings, Msgr. Charles served parishes in the northern parts of the archdiocese, from Urbana to Lebanon and, finally, in Dayton. After retirement he was a chaplain for the Sisters of Notre Dame de Namur.
Father George Hickey (1868-1941)
He was the only son their father did not get to see ordained a priest, having died three weeks prior to his last son's ordination. His final pastorate was in Urbana, and after retirement, Father George served as chaplain at Mt. Notre Dame in Reading.
Sister Mary Annunciata (Mary Hickey, 1865-1943)
Mary received her education at Mt. Notre Dame Academy, where the Sisters of Notre Dame de Namur instructed her. The first of the two daughters to enter religious life, Sister Annunciata taught music for most of her ministry.
Sister Marie Immaculata (Martha Hickey, 1870-1930)
Following the death of their father, Martha delayed entering religious life so she could be a companion to their mother. She entered religious life in 1912, and Father George later said, "Of all the members of the Hickey family, she was the most beloved."
This article appeared in the March 2021 edition of The Catholic Telegraph Magazine. For your complimentary subscription click here.