A Presence on Campus: Father Eric Bowman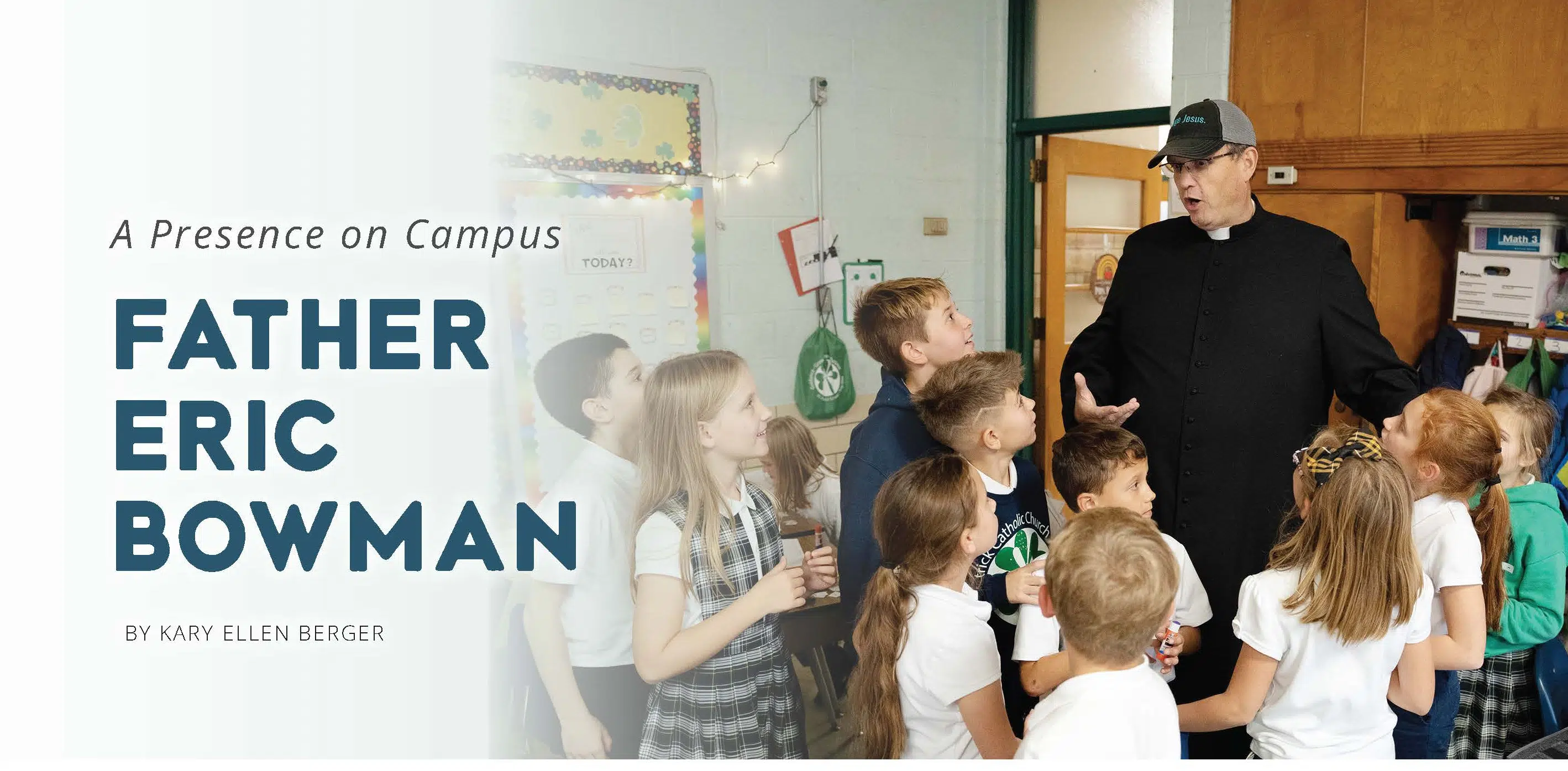 Recess is a highlight for students in elementary school. During this downtime they can enjoy fresh air, socialize with friends and exercise their imaginations. Teachers monitor this escape from classwork, of course, but in schools like St. Patrick in Troy, adult volunteers join the students.
At St. Patrick School, however, it's not just any adult getting in on the recess fun — it's the school's pastor, Father Ed Bowman.
Growing up near Springfield, OH, Father Bowman enlisted in the Army after graduating high school and served for over three years. He later received his teaching degree from Ohio State University and was ordained in 2004.
For nearly five years, Father Bowman has served at St. Patrick School and Parish and is also pastor at Transfiguration Catholic Church in West Milton. His interactions with students were influenced by two people in particular.
"The first is my Great-Uncle Ed Bowman from Zanesville, Ohio," said Father Bowman. "While I never went to Uncle Ed's school, I heard so many stories from [my] father and his siblings about Uncle Ed being at recess with the kids or coaching basketball or spending hours at the YMCA coaching or playing sports with the young people."
"But what really impacted me was when my nieces and nephew began to attend the school," Father Bowman said. "Uncle Ed, still into his late 80s, was greeting the students when they entered the building and was there at the door to say goodbye to students as they left. Those children knew that Uncle Ed cared about them and that they mattered. All of this and Uncle Ed was, 'just the janitor.'"
The other influence was his eighth-grade teacher, Mr. Dimitroff. "I don't remember if he was a good teacher or a boring teacher, but I do have wonderful memories of him at recess with my class," said Father Bowman. "He would be the quarterback for our football games. As with my Uncle Ed, those few minutes each day being at recess tossing the football around made me feel that I mattered and was important."
For Father Bowman, a well-rounded Catholic school education is more than what can be taught in the classroom — it's the critical everyday interactions that can be as significant.
"I want the students and the staff to know that they are important to me, that I am there for them and to show them they are loved," said Father Bowman. "[I strive to help students find] that being a believer, being Catholic, is life-giving, life-fulfilling, joyful and beautiful. I want them to see in me a person so deeply in love with God, that it permeates every part of my life."
Yes, God's love is found inside a church sanctuary, but look outside: As Father Bowman proves, God's presence can be found on the blacktop, too.