A young reporter's take on Nepal trip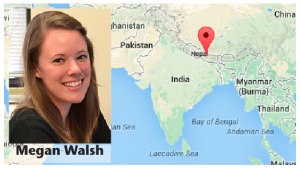 By Megan Walsh
For The Catholic Telegraph
I think everyone should travel outside of the United States at least once in their lifetime.
If one can afford it, the experience compensates for the 15 hour flight or the really spicy food or even the scheduled electrical blackouts.
It is human nature to have first impressions with places and I am no exception. My first few impressions with Nepal were similar to my experiences in East Africa. When we arrived in March there were lots of men milling around the airport waiting to act as luggage carts for a few hundred rupees. Garbage was everywhere except a receptacle bin. The taste of dust, the stench of burning garbage, the raucous sound of beeping car horns and the sight of human beings living in shanties was overwhelming.
As a fanatical dog-person, I wanted to wrap each of the thousand filthy street dogs up in my arms and name them. Just as most westerners think upon seeing poverty in a third world country, I thought to myself, "How do I help? What can I do? How much money should I give them?"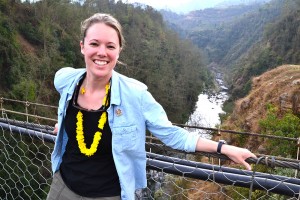 Like many people know, first impressions do not always last. Eventually, one can learn to see beyond them.
While I was walking up a street to visit the first Jesuit school in Nepal, I noticed the children playing instead of the dirty clothes they were wearing. I took a picture of a beautiful mother with her baby instead of the sparsely-stocked shop behind her. I observed the effort Nepali people put into decorating their homes instead of seeing just the brick underneath.
I was welcomed with open arms and beautiful smiles by more than 60 people. I enthusiastically wrote down facts and notes to form into ideas for my articles. I absorbed names, faces, historical dates, contact cards and stories. I slept on single foam-padded beds with rock-hard pillows. I ate rice twice a day for ten days straight. I drank really good tea.
I, and others from the Archdiocese of Cincinnati delegation, visited the Nepalese in their homes, schools, day care centers and places of employment. We also met Nepalese in the street and in their rural village. I walked up to Nepalese who were wheelchair-bound, who were dying, and who thought that they had been forgotten about. I met refugees who do not have a place to call home; they are nobodies in the eyes of their government.
I witnessed great suffering in Nepal, just like my initial perceptions had told me I would. Thankfully, I stayed for a few more days. I saw the enduring light in their eyes. I felt continuing strength in their arms. I heard about renewed efforts to rebuild Nepal. I saw bright smiling faces covered in ash and dust. I heard children screaming for joy with their best friends.
When people told me, "It gives me hope and courage to have you here," I felt unbelievably honored to have the opportunity to meet the Nepali people. These Nepali people are from the past conflict and violence but they are also the people of tomorrow.
After traveling for about 29 hours and over ten thousand miles, it is incredibly important to choose what is absorbed. There is a famous quote that says, "We cannot control what happens to us. We can only control how we respond." The people of Nepal did not have any control over where they were born. They cannot control how their government operates. They can not control Nepal's lack of resources. They certainly can't control the geopolitical relationship Nepal has with India and China.
However, the Nepali people are responding in a positive way. There are new schools being built. Children are being kept safe in child day care programs. Differently-abled persons who have struggled with physical disabilities their whole lives have a new sense of purpose. Senior citizens are being remembered. Women are finding their voice. Refugees are being heard.
So even though I had no control over being born in the United States, I have decided how to respond. I have been blessed to travel ten thousand miles to experience a different life and culture. I will keep my memories safe in photographs, in words, and in relationships. I will share my Nepali moments with anyone and everyone that I can.
I pray that you, blessed to be born in the United States of America, do not take the luxuries for granted and that you do not forget about the one billion people who survive on $1.25 a day.
_______
Megan Walsh is a freelance reporter who accompanied an Archdiocese of Cincinnati delegation on a mission trip to Nepal in March of 2014 for The Catholic Telegraph.