Alter girls repeat as state champions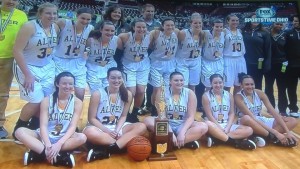 Official OHSAA Recap
COLUMBUS – In a rematch of last year's Division II girls basketball state championship game, Kettering Archbishop Alter put forth a record-setting scoring performance to defeat Ottawa-Glandorf, 74-48, on its way to winning its second-consecutive OHSAA Girls Basketball Division II State Tournament championship on Saturday afternoon at Value City Arena inside the Jerome Schottenstein Center.
Archbishop Alter Head Coach Christina Hart commended her team's effort, not just in Saturday's game, but also throughout the season.
"What a great effort by our kids, and what a ride this whole year has been," Hart said. "The last three years, honestly. The fact that it was so physical in the first half – our kids showed resiliency in the locker room, and the way we came out in the third quarter really spoke to our tenacity."
Archbishop Alter (28-2) set the record for most points in a Division II Girls State championship game with 74.
Alter junior Braxtin Miller recorded a double-double, recording a game-high 33 points and 10 rebounds. Junior Libby Bazelak and senior Kara Stephen each added 10 points for the Knights.
Alter started strong, holding onto a 14-8 lead after the first quarter. Ottawa-Glandorf outscored Alter in the second quarter 14-13 to head into halftime down 27-22. Archbishop capitalized on a 10-1 run in the third quarter, shooting 78 percent from the field in the quarter to head into the fourth leading 48-36. The Knights capitalized on free-throws in the fourth quarter, going 9-for-12 and 21-for-28 overall.
Saturday's victory marks Alter's third girls basketball state championship and fifth appearance in the state final.
Read the full recap at the OHSAA website.