Alter High School celebrates 50 years of excellence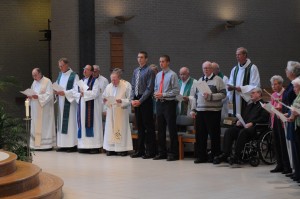 By Eileen Connelly, OSU
The Catholic Telegraph
KETTERING — Since August of 2012, Archbishop Alter High School has been celebrating 50 years of excellence in Catholic education in the Kettering community. Students, faculty, parents and alumni have been marking the milestone with a variety of activities geared toward celebrating the school's past and present.
Alter's origins date back to October of 1958, when the Catholic people of the Dayton area pledged $4,953,050 to defray the cost of building Catholic high schools in the community. One of the schools built with the contributions was Alter. Auxiliary Bishop Paul F. Leibold laid the cornerstone for the school. At the request of Dayton residents, this fifth Catholic high school was named after the fifth ordinary of the Archdiocese of Cincinnati, Archbishop Karl J. Alter. Father Edward Haskamp was appointed the first principal Jan. 3, 1962, and Sister of Charity Eleanor Marie Salm served as the first vice principal. Father Haskamp and five Sisters of Charity supervised the final stages of the construction of the school and Alter opened its doors for the first class of freshmen on Sept. 5, 1962. Archbishop Alter formally dedicated the school on Sept. 30. Since then, more than 10,000 young men and women have taken their places in society with the confidence and character needed to fulfill the life God intended for each of them.
One of those young men was Rick Willits, a 1988 Alter graduate. "My experience at Alter was amazing," he said. "It built a solid foundation in my faith that I took with me and friendships that I still have today. It's always nice to know that Alter's sense of community stretches well beyond Kettering."
So meaningful was Willets' high school experience that he eventually returned to work there and now serves as Alter's director of advancement. The anniversary celebration has been "a great opportunity for us to connect with alums that go all the way back to the 60s," he said. "Instead of one big week of celebrating, we've had one activity every month, so as many alums as possible could come back to celebrate."
The celebration kicked off with the weekend-long AlterFest, held Aug. 31-Sept. 3, followed by the 50th anniversary gala, "A Starry, Starry Knight." The event was held at the Ponitz Center at Sinclair Community College and featured dinner, dancing and a silent auction. The first inductee into the newly created Alter Teacher Hall of Fame, Sister of Charity Katie Hoelscher, was the featured guest, and all proceeds went to the Teacher's Enrichment Fund. Members of the Alter community were invited back for a special 50th anniversary Mass Oct. 14, with many of Alter's alumni priests and Sisters of Charity in attendance. Other anniversary events included an Alumni Hall of Fame Induction Banquet, a Christmas concert and Knight Out Fish Fry, featuring former Alter parent and artist Paul Melia, who was on hand to sign select 50th anniversary prints.
Father Jim Manning, Alter's president for the past eight years, said one thing that has been evident throughout the anniversary events has been the school's sense of pride, "pride in our traditions, in what has been accomplished and in our graduates," he said. "We're still pretty young at 50 years old and we're counting on Alter having a bright future of continuing to offer a Catholic education on the south side of Dayton. We're making a real contribution here and have a real presence in Kettering."
"You can't go wrong with the Catholic schools in Kettering," added Lourdes Lambert, principal. "They mean so much to the Kettering community. At Alter, we have a wonderful place to provide a faith-based education and rich traditions to students in the short period of time they're with us."
The sense of faith and community is strong at Alter, she said. "When there is a student needing prayer, everyone knows how powerful prayer is and we all get behind that student. I think that's very typical not just of who we are, but of all Catholic schools. We have such strong ties here. Our students work so hard and take their faith and service to others so seriously. When they graduate from Alter, they realize know that they'll always be loved here."
Alter's golden jubilee celebration will come to a close on June 2, when the school grounds are transformed into a casual setting for a 50th anniversary picnic to which the entire community is invited.