American Heritage Girls: Respect Life Patch Program Encourages Girls to Support Life in the Community

by Bonny Van
When it comes to scouting for girls, there is more to it than friendships, adventure and fun. For members of American Heritage Girls (AHG), there are lessons on life, including a focus on respecting life "from conception to natural death," according to Patti Garibay, founder of AHG, based in Cincinnati.
"The pro-life cause is not a political cause, it's a God cause and because we are Christ-centered, and we do believe that what the Lord says is truth, that this needs to be something that's taught to the girls, that life is sacred," said Garibay.
Michelle Beckham-Corbin, AHG director of Marketing and Communications, noted every troop is connected to a church and is an extension of that ministry, which is based on Catholic values and teachings. As in other scouting organizations, AHG has a program where girls earn badges or patches after accomplishing various skills or service projects. One of those patches is the Respect Life patch, which began in 2014 and is "one of our most sold patches out of all the patches we have," she said.
"It's an amazing thing to see the girls come together to do different initiatives to support life," said Beckham- Corbin. "Those initiatives could include service projects for organizations whose mission is to respect life. It could be the annual March for Life in Washington, D.C., in January, doing some work for pregnancy resource centers, pro-life groups, doing service work for hospices."
Twelve-year-old Kathleen Stratman, a member of the AHG Troop at Mother Teresa School in Liberty Township, certainly had that in mind when she got her 10-member troop involved in a project for hospice. The group made "no-sew" fleece blankets to distribute to patients.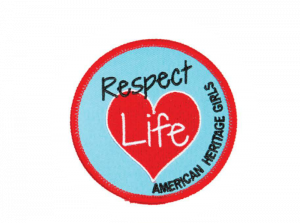 "I wanted to donate the blankets to hospice because I had an aunt who died from pancreatic cancer and she went through hospice," said Stratman. "They were really happy that we gave them the blankets because they said the patients would really like them first, and, once they died, their families would get the blankets as [a memento of their loved one]."
"The Respect Life message is important because it reinforces our faith in their daily lives and helps them understand where we are coming from and going to," said Christy Burke, who has been a Troop Coordinator for 10 years for ages five through 18 at Mother Teresa School.
Burke recalled one project by a troop member that involved building walls and shelves and painting at Elizabeth's New Life Pregnancy Center in Cincinnati. The work involved all ages, including the youngest members of the troop who helped paint murals, Burke said.
"And the goal is to be very hands on," said Burke. "The younger you are, the more effective it is if you are doing hands-on things."
Other activities include visits to nursing homes where the younger girls make and deliver cards or help the seniors make crafts. Burke said the older girls usually help the younger girls as they assist the nursing home residents with those projects.
"[The girls] are all understanding and comprehending the "respect life" issue at their own level and where they're at," said Burke. "So a Kindergartner will see the smile on the face of a senior as they're singing Christmas carols to them in the nursing home, whereas the 16-, 17-, 18-year-olds who are going out and building things at the pregnancy center, they see the clientele that are coming through as they relate the stories of how beneficial this is going to be for them."
Another important activity for American Heritage Girls, according to Garibay, is participation in the Archdiocese of Cincinnati's annual "Cross the Bridge for Life" across the Purple People Bridge spanning the Ohio River from Ohio to Kentucky.
"I guess the sacredness of life has just been a part of our heartbeat, it's actually why we got started in the first place," explained Garibay. "Respect Life is so integral, and it's because it's a God issue and it affects men and women and families all over the country."
This article appeared in the October edition of The Catholic Telegraph. For your complimentary edition, click here.