Angels gowns now available at many area hospitals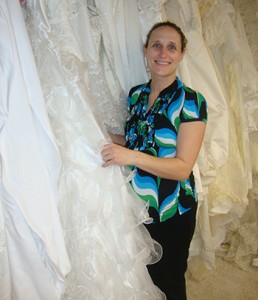 In October of 2014, Cathy Diehl began her quest: creating a ministry to provide gowns for infant girls who lost their lives within a year of birth.
Today, gowns are available — at no cost to grieving parents — at many Cincinnati and Dayton-area hospitals including: Christ, Mercy Anderson, Mercy West, Mercy Fairfield, University of Cincinnati West Chester, Kettering, and Southview
Hospitals contacted to see if they have an interest in proving gowns include: Atrium, University of Cincinnati Medical Center, Cincinnati Children's Hospital, Good Samaritan (Cincinnati), Bethesda North, St. Elizabeth (Kentucky), Fort Hamilton, Dayton Children's Hospital
"We are contacting new hospitals each week to see if they will accept our donation of Angel Dresses and Angel Wraps. We have more than 60 volunteers sewing and 50 more new volunteers to be trained to sew.  New volunteer workshops begin in April," said Diehl of West Chester.
Diehl also makes gowns available to people who contact her independently.
The concept was born out of tragedy.
Diehl's daughter, Ava, was stillborn — caused by a placental issue. It happened in February 2013. Diehl searched in vain for a dress appropriate for her daughter to wear at her burial at Gate of Heaven Cemetery in Montgomery. She looked at baby doll clothes and nothing was small enough…. Ava was one pound, 10 inches.
Shortly after the tragedy, a friend from Texas messaged Diehl about a Texas initiative where Angel Gowns were made from donated wedding dresses. Similar projects exist in Washington State and North Dakota and a woman in Georgia  makes such gowns in her home.
"There was nothing like it here in the Tri-State so I decided to start it," Diehl said.
Among those recently receiving gowns are Michael Schirmer and Anna Bohman, a Northern Kentucky couple who lost their daughter, Aubrey, Jan. 31. They remain distraught, but Helen Schirmer, Aubrey's grandmother, was thankful to talk about the ordeal.
"Aubrey lived two weeks. She was born at 26 weeks of gestation and she was breathing on her own and doing great. Then she got a staph infection at the hospital," she explained.
"Once Aubrey passed away, we started making funeral arrangements and we had to find something for her to wear. I went online and searched everywhere I could find and … what I could find was either very expensive, I would not be able to get it in time, or it was not going to be small enough," she said. "We started going to different local stores. We went to little kids' boutiques. Everywhere we went there was never anything small enough. Aubrey weighed two pounds, two ounces. There was just nothing small enough for her."
Helen Schirmer's sister, Mary Rust, "knew we were looking and she knows a friend of Cathy Diehl's. I remember we got to St. Joseph Church, Cold Spring, after spending the morning looking through the stores.  We needed to plan the funeral and we were walking out of church to get in our car when Cathy called.
"She said she understood. She was
so great to deal with. She was very sympathetic to the situation. She offered bring the gowns to us or meet somewhere. So, we actually drove from Northern Kentucky to West Chester were Cathy lives. We are in Wilder Kentucky," Helen Schirmer said.
"When we got to her house … she had  about 10 gowns laying out for us. One was more beautiful than the next. Some had flowers. We saw one. It was cream-colored with lace. But, there was a little flower on another one Anna liked so Kathy actually got out her scissors, cut the flower off, and put it on the dress we wanted. There was one with a string of like pearl beads. Cathy got her sewing kit out, cut the beads and gave them to us. I actually took those home with me and sewed them onto the dress. It was absolutely gorgeous.
"It was all donated by Cathy. She said it helps her to heal by doing this and it helped us a lot because my son and Anna were grieving too and they don't have a lot of money," Helen Schirmer said.
One of Diehl's Angel Gowns has flown across the Atlantic to a Scotland.
Christina Hubbard, of Kenwood, has been volunteering for Diehl for about a year driving throughout the greater Cincinnati area collecting donated wedding gowns.
"I just love to do it," said Hubbard, a nurse at DAVITA, a dialysis clinic in Silverton and at the Clovernook Health Care Pavilion in North College Hill, a facility for seniors.
"My aunt and uncle moved to Scotland where they have two children. This past November, my cousin's wife went into labor. A broken placenta ruptured and the baby died. She was a full term baby. My aunt and uncle live in Glasgow, Scotland. I picked out an Angel Gown for her. In fact, the day it happened and I found out about it, I raced to Cathy. They do not have anything like it in Scotland."
For information about Angel Gowns and Wraps, visit www.sewinghearts.org.