Answering Challenging Questions
I love answering questions about Catholicism. Seriously, it's one of my favorite things. First, I enjoy sharing what I'm passionate about, and answering questions allows me to do that. Second, it's a chance to fine-tune my responses and figure out the best way to answer some questions. Finally, I appreciate the challenge. Put me on the spot, give me your hardest question. If I don't know the answer then I'll go learn more – which I also really enjoy. And if, through it all, you get some much-needed closure on a confusing area, then the whole Q&A is a win-win for everyone!
So, I love questions. The problem is, if you just crack open the door I want to plow through it like a running back. Sometimes in my zeal to share what I love, I overwhelm people and turn them off right just as they are beginning to ask questions about faith. As Sherry Weddell likes to say, "Don't drown a teaspoon full of curiosity with a gallon full of answers."
Let's practice her advice together. Below are three questions from a reader, each followed by my attempt at a teaspoon answer. Before reading my response, you try answering each question yourself. Remember: we are answering someone early in his faith journey who is entertaining initial curiosity about Christianity. Be simple and succinct. Preach the Good News! Pique his curiosity. Help him feel welcomed and encouraged.
1. HOW CAN HEAVEN BE PARADISE IF SOME PEOPLE WILL BE SEPARATED FROM THEIR LOVED ONES?
My answer: It's hard to think of heaven as a place of perfect happiness if I might be separated from particular people. I must remind myself: God's love is BIG, bigger than my closest relationships, bigger than I can really imagine. It's pure, all-encompassing, brilliant and so fulfilling that when I'm in heaven, basking in God's love, I will not feel deprived of anything. Nothing and no one can compare to God being entirely mine and me being entirely His. Furthermore, when I'm perfectly united with Him it will make perfect sense why some people did not enter heaven. I will be struck by God's infinite mercy and justice, which will only further add to my fulfillment, not take anything away.
2. HOW DOES ONE RECONCILE THE WAY CHRISTIANITY IS USED TO ABUSE AND HARM SOME PEOPLE WITH THE GOOD IT DOES FOR OTHERS?

My answer: Any good thing can be abused. A hammer can build a house or bonk someone on the head. If someone is harmed because of Christianity, that means someone who represents Christianity lost sight of who Jesus is and what He actually taught us. When people are faithful to Jesus' teachings and examples, they do tremendous good. When they are unfaithful, they do tremendous harm. So, the issue here is not with Christianity, but with those who represent Christianity. We must constantly strive to be better witnesses.
3. IF IT WEREN'T FOR FEAR OF HELL, WHAT REASON IS THERE TO LOVE JESUS?

My answer: Well, I can only speak for myself, but I love Jesus because He's done so much for me. He gives my life purpose and meaning. He forgives me and washes away my sins. He brings good out of my suffering. He gives me a reason to keep going when I want to give up. He has given me gifts that make me come alive when I use them. He teaches me about myself. He loves me no matter what, and it's really nice to have someone like that in my life. He even conquered sin and death so that I could be in heaven with Him. Jesus is wonderful, and so I can't help but love Him.
What did you come up with for answers? Email your thoughts to me at [email protected]. I enjoy seeing how others answer questions!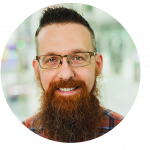 Nicholas Hardesty is the associate director of Adult Evangelization and RCIA for the Center for the New Evangelization. [email protected].
This article appeared in the January 2022 edition of The Catholic Telegraph Magazine. For your complimentary subscription, click here.