April is Safe Child Environment Month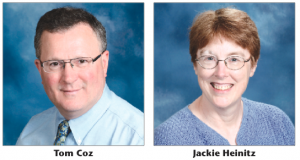 By Steve Trosley
The Catholic Telegraph 
Tom Coz's title seems almost as long as the stormy history of his office. But as the coordinator of the Office of Safe Environment for the Protection of Children and Youth looks back over that history during national "Child Abuse Prevention Month" (April,) he can click off numbers that show the effort started by Archbishop Emeritus Daniel E. Pilarczyk in 1993.
The office has evolved from an arm of the Human Resources Department, aided by Administrative Assistants Linda Chouteau and Jackie Heinitz, to one that oversees hundreds of parish coordinators and deals with nationally known outside service providers. Training the trainers at the parish level was then-archdiocesan chancellor Father (now auxiliary bishop) Joseph R. Binzer. Heinitz, who still labors with the office, has fingerprinted tens of thousands of archdiocesan clerics, employees and volunteers.
In the early days, the people working on background checks and training made their own materials, Heinitz said.
The archdiocese original database of clerics, volunteers and employees included 85,500 names.
With the new system, those numbers are being rebuilt. Just some of the statistics:
29,873  — Number of persons in our archdiocese who hold "active" VIRTUS® user accounts by virtue of attending VIRTUS® Protecting God's Children Training Sessions as of March 1;  413 — Number of VIRTUS® facilitators/trainers that we have trained in our archdiocese to present VIRTUS® PGC Sessions as of March 1;
265 — Number of VIRTUS® local safe environment coordinators that have been appointed, to date, by parishes and schools across the archdiocese to administer the VIRTUS® Program at the local level; and 2,640 —Number of persons in the archdiocese who have had their SELECTiON.COM® electronic database background checks (a/k/a FASTRAX™) taken, to date, since Jan. 1. This number increases daily, Coz said.
Coz, a Xavier University-trained attorney, has watched the activities of his office grow with the complexities of operating the Archdiocese of Cincinnati. What Archbishop Emeritus Pilarczyk started as a response to the revelations of youth abuse in the 1960s and 70s has become a primary activity supported by specialists in security and training. Heinitz handles administrative tasks; Coz acts as the primary trainer.
The United States Conference of Catholic Bishops declared its Charter for the Protection of Children and Young People in June 2002. The charter has been expanded, Coz said, to include all at risk adults and vulnerable adults. The USCCB regularly audits dioceses and makes recommendations on training and practices.
One of those recommendations led to a relatively new development as the archdiocese adopted the Virtus online training program. It was created by the National Catholic Risk Retention Group, Inc. (National Catholic). Msgr. Kevin McCoy, past board chairman of National Catholic, asked whether child sexual abuse could be prevented and, if so, how? In March 1998, National Catholic invited prominent national experts — experts in many disciplines — to discuss these questions at a forum in Washington, D.C. From those discussions, the initiative for the VIRTUS programs was created. The National Catholic board of directors selected an ad hoc committee to oversee development of the programs. VIRTUS® is the brand name that identifies best practices programs designed to help prevent wrongdoing and promote "right doing" within religious organizations.
Since Jan. 1, the fingerprinting and background checks of clerics, employees and volunteers was contracted to SELECTiON.COM®, a local firm that specializes in security and background checks, among other business support services. The company has more than a thousand sources to check and crosscheck applicants to ensure no one who works with children slips through the cracks, Coz said. The checking is also on-going and is repeated. Some parishes pay for the checks of volunteers but others require the volunteers to pay the $25 one-time fee.
Not only is this service more thorough and reliable, according to Coz. It is also faster.
While Coz said the changes and cost of the checks sometimes irritates parishes or volunteers, he believes everyone understands why it's all necessary.
Meanwhile, employees are now re-fingerprinted every five years and all are in a continual monthly training program through VIRTUS® online.
The Archdiocese of Cincinnati will host the USCCB national conference of safe environment coordinators in 2015.
While all 195 U.S. dioceses have come a long way since the scandals of 20 years ago, Coz believes the Cincinnati archdiocese has demonstrated the most determination and leadership in making those who participate in its programs, attend its schools and worship in its churches as safe as humanly possible from the abusers who lurk in American communities.
This article originally appeared in the April 2014 print edition of The Catholic Telegraph.