Archbishop Q&A with students touches on many topics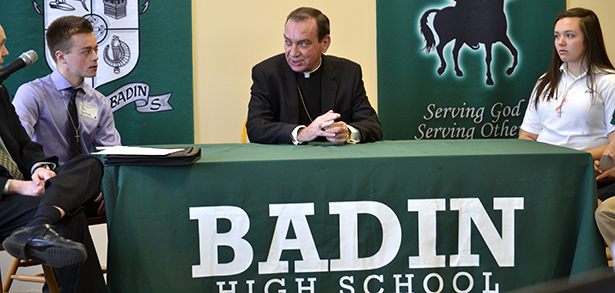 By John Stegeman
The Catholic Telegraph
Shortly after becoming the Archbishop of Cincinnati, Archbishop Dennis M. Schnurr started a new Catholic Schools Week tradition of taking questions from Catholic school students.
He continued that tradition Monday morning, Jan. 27, at Stephen T. Badin High School in Hamilton. Via networked computers, the archbishop participated in a live question and answer session with high school students from 15 schools around the archdiocese. Several schools were not in session Monday due to weather conditions. It was the fifth occurrence of the now-annual broadcast.
"The purpose of this broadcast is to provide the young people of our Catholic high schools with an opportunity to have a dialogue with Archbishop Schnurr," Superintendent of Catholic Schools Jim Rigg said in his remarks opening the broadcast.
Each school was linked in via webcam and the archbishop was able to see those asking questions via a large screen and projector. Students at the other schools could see him as well. Most of the school's plugged in had groups of students present for the event, with one or two students prepared to ask a question. At Badin, three students sat alongside the archbishop at a main table and a group of others watched on.
Student Jake Giuliano, a junior at Badin, was happy to see the archbishop visit his school
"I've never had this experience," he said. "It is definitely nice to know that he's reaching out to everybody and see that he actually does care."
Claire Schuster, a senior, was exited to be a part of the Catholic Schools Week event, and added why she enjoys the Catholic education at Badin.
"I like how they teach us not only academics but morals and how to live a Catholic life," she said. "How to live your best life."
The archbishop spoke for nearly an hour, answering everything from the simple to the complex.
Below is a video with seven minutes of footage from the hour-long event.  Following that are transcribed excerpts* of the archbishop's answers to student questions from the event.
On whether social media is harmful.
Like most anything, properly used it has great benefits. Even good things, if used improperly, can be very detrimental to our people.
On his favorite part of being the archbishop.
Something like this I very much enjoy. I enjoy the opportunity to speak with and hear from our young people to see what thoughts are on your mind and what you're concerned about. I enjoy getting out into the parishes.
It would probably be easier to ask what are the least enjoyable aspects about being the archbishop. There's an awful lot of office work involved in being the archbishop, but it has to be done.
On the archdiocese's Hispanic outreach
This year for the first time on our staff at the Catholic School's office we hired a full time person to go out and reach out to the Hispanic community and to urge them to consider our Catholic schools. Their cultural experience would add a tremendous dimension to our schools and we'd like to see that… We are aware that we have to do more, and we are committed to doing more…
On School vouchers
I'm not so sure that there is necessarily a downside to accepting vouchers. There are those I know who are concerned about the fact that as soon as we begin to accept vouchers there is concern that the government gets more and more involved in our school and perhaps has some impact that we do not look at in a positive way…
The positive side is that we have such good things going on in our Catholic schools that we would like to have as broad a spectrum of young people able to benefit… This is not only academically, but in the whole area of character formation.
On expanding the priesthood to married men or women
As far as ordination of married men to the priesthood, could that change one day? Yes, it could. That is simply disciplinary norm of the church. There's nothing theological against the ordination of married men.
As far as the ordination of women, that question was studied by Pope John Paul II. At the conclusion of his study he just said it is not within the authority of the church to change that particular practice. It is a practice that is grounded in the teachings of Jesus Christ and cannot be changed.
On Pastoral Regions
That is something that is necessary now because we do have fewer priests… That doesn't necessarily mean that when the number of priests become sufficient again that we will break up the regions, I don't think we'll do that. What we will do is assign more than one priest to a region so there are a greater number of priests to serve the people in that region.
Regions aren't entirely a negative thing either… A small parish on its own doesn't necessarily have the resources to take up all the ministries that are expected of a parish today. However, if you bring several smaller parishes together in a region, then they may indeed have the resources that are necessary.
On being a teen during the Second Vatican Council
The era of the Second Vatican Council and the years that followed were rather turbulent years for the church. Up until the council everything had been so clearly spelled out. Do this, don't do this. Basically, Catholics in the pews were told do what father tells you and you'll be alright. The pope who called the Second Vatican Council, Pope John XXIII, realized that that approach to living out the Catholic faith could not continue.
There were many Catholics, and I can put my parents in that category, who didn't understand why all these changes were taking place. In some ways they became confused and some even became disillusioned…
Some misinterpretation of the Second Vatican Council took place and this is why we saw some extremes. We saw extremes at all levels of the church including the seminary. They were difficult times to be in the seminary…
A lot of things were explained following the Second Vatican Council. If someone made a statement and you'd say, "Where is that said in the Second Vatican Council?" The response would come back, "It's not really stated there but it's in the spirit of the Second Vatican Council." I think that is not a valid argument. The Second Vatican Council spoke very clearly in many areas of the church. To say it is in the spirit, in most cases, is taking the Second Vatican Council too far. I think the turbulent years are over and we're beginning to settle in again but they were difficult years as you said.
On what the archdiocese is doing for the local youth
The number of engagements that NET Ministries has had in this archdiocese has increased to such a point that …. they are going to establish their first satellite office in the Archdiocese of Cincinnati early this summer, but that's not enough.
Youth ministry has to take place in the parish… We have to find ways of doing that and we are exploring ways of doing that without in any way taking away from the national conferences.
On healthcare
The bishops have been in favor of universal healthcare for many, many decades. Whenever there is legislation proposed on the state or national level the bishops have worked very closely with those officials to make certain that it is healthcare that at the same time follows the teachings of Christ.
Part of our difficulty with the Affordable Care Act is that, as you know, the HHS Mandate speaks of all health insurance programs having to cover contraceptives, abortifacients and sterilization which is contrary to the teachings of Christ.
We worked with the national government to try to shape the Affordable Care Act in a way that we could implement it. Unfortunately. they put in situations we can't live with. We are still in favor of some type of medical assistance being made available to all people.
On Pope Francis
The message he is delivering quite clearly is that we do have the teachings of the Church and the teachings of Christ. Sometimes they can be delivered in a way that makes them sound harsh or punishing in some ways. What Pope Francis is saying is that, remember, all of this is said to you out of love.
Let's focus on this whole message. The commandments are there and the moral teaching of Jesus is there, but let's put it in proper context. That proper context is always within the context of love. (God) wants us to experience peace, joy, and fullness of life. I think that's what Pope Francis' primary message is.
On  his most influential moments since ordination
I was ordained on the 20th of July 1974 and the very next day, I baptized my nephew. As I was baptizing my nephew, I said a prayer to God saying, 'I hope one day one of my nephews will become a priest.' The very first nephew I baptized was ordained to the priesthood last year.
When I first was asked to (put together the program for World Youth Day in Denver in 1993) I rather objected, saying I did not know youth ministry all that well… It gave me the opportunity to travel the United States visiting with young people. That has stayed with me all my priesthood.
One other occasion. In 1985 I was very happy serving the Diocese of Sioux City, Iowa. I was very happy doing my thing in the northwest corner of rural Iowa and I was asked to go serve on the staff of the Vatican embassy in Washington, D.C. I didn't want to do that and said no initially. They came back and said, 'You're going to do it anyway.'
What I learned when I said no to World Youth Day and to working at the Vatican embassy, I realized more clearly than ever that God has a better plan for us than we have for ourselves. Many of the opportunities that I have had as a priest would never have been available to me had I not gone to the Vatican embassy in 1985 or participated in World Youth Day in 1993.
On discerning God's will in our lives
First of all you have to be aware of the fact that God does have a plan for each and every one of us… Everyone of us, God created for a purpose. The most important question we can ask in life is, 'Why did God create me?'
On youth understanding the sacraments
To enter into a spiritual awareness of what we receive in the sacraments we have to first of all understand why Christ gave us the sacraments. Take the Eucharist for example. We have to have the understanding that what makes up the sacraments, the outward signs, what is essential for the proper celebration of the sacraments. That is all necessary because if we don't have that understanding we risk not celebrating the sacraments validly and if they aren't celebrated validly we don't have the sacraments.
We then cannot be satisfied with academic understanding of the sacraments… The real purpose of the sacraments is for us to enter into a very personal relationship with Christ who comes to us through the sacraments.
On miracles
We say to ourselves, 'It'd be a lot easier to believe in Jesus if we saw a few of those miracles.' Well, if we do read the bible we see for a good many people, miracles weren't enough. What was really important was their faith in Jesus…
There's a kind of a longing for miracles today and yet the sacraments are miracles in our midst today. Where else can the bread and wine become the body and blood of Christ? Who else other than God can forgive sins? Who other than God can, through, baptism, make us his adopted chidden. Every one of the sacraments is that way.
On what he did for fun growing up
I grew up in a town with a population of 600 people. There were no organized sports. If you were going to engage in sports you had to go around the neighborhood and see who was available.
We put together some baseball games and things like this. I always enjoyed working with people so in the eighth grade I got a job in a local grocery store starting as a kind of stock boy. By the time I was a sophomore in high school the manager would go off on vacation and I would run the store which I thought was kind of neat.
The things I did as a teen most any teenager did. If there were sports, we would do that. I'm often asked if when I was in high school did I date? Yes. Did I go to dances? Yes. Pretty much typical what any other teenager did.
On violence in the world
If you follow Pope Francis, one of the reasons he took the name Francis is because St. Francis of Assisi is known for his concern for peace, not only between people but with the world around us. I think the church is doing what it can. If we go back to the pope, he has ambassadors throughout the world trying to mediate peace in every situation that is possible…
The problem is. Christ said, 'Peace is my gift to you, peace I leave to you but not as the world gives peace.' Christ is basically saying that the only way to peace in the world is through his message. Yet that message is rejected by different parts of the world and quite honestly being rejected by this country…
The one thing we want is peace, and we're looking for peace, but we're not listening to the Prince of Peace who has told us that the only way to peace is through his teachings. As long as the church continues to remain faithful to the teachings of Christ, I think we are doing everything we can to advocate for peace.
On importance of Catholic education
God creates for a purpose. A Catholic education helps. What we want to do through our Catholic schools is help our young people explore why God created each and every one of us and to explore the vocation to which we are called…
We want that for our young people because we want our young people to experience the peace, the joy, the fullness of life that Christ promised. As said, it can only come through his teachings. He does not give us his teachings because he knows us better than we know ourselves. He knows what is going to bring about peace, joy and the fullness of life.
*The included excerpts are selections from the archbishop's answers, not his answers in full. A full length video of the event will be posted online by Badin High School staff in the coming days.