Archdiocese Food for All campaign to welcome pope exceeds goal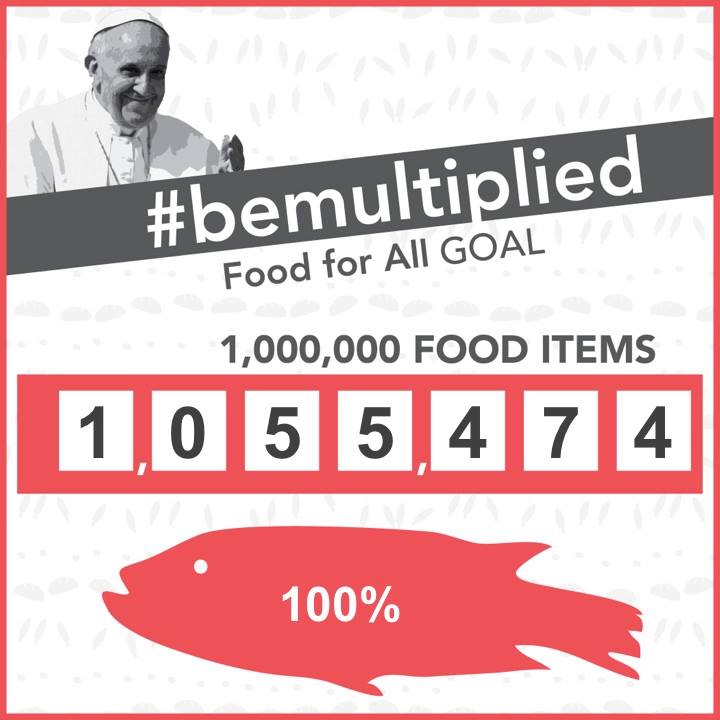 By John Stegeman
The Catholic Telegraph
With big goals and a big purpose, the Archdiocese of Cincinnati set out to welcome Pope Francis to the United States by honoring the Holy Father's commitment to ending hunger. On Tuesday, the archdiocese announced all the goals had been met.
The plan was to raise one million food items between July and Sept. 22, the day of the pope's arrival, and to have more than 5,000 letters written to congress advocating for child nutrition programs. The letter goal was exceeded with more than 12,000 being written, and just moments before Pope Francis' plane landed at Joint Base Andrews, the Archdiocese of Cincinnati Facebook page shared the big news.
"We did it!" read the post. "With the Pope just arriving to the United States we are happy to announce that we exceeded our goal of 1 million food items pledged. We are inspired by Pope Francis and we wanted to welcome him to the U.S. in a big way by responding to his challenge to end world hinder but 2025."
Sean Ater, director of the Office of the New Evangelization, was a key organizer of the Food for All: Be Multiplied campaign. At an event where Archbishop Dennis M. Schnurr blessed the letters to congress on Sept. 18, Ater noted the goal was still a few hundred thousand off. So how did 300,000-plus pledges come in over four days?
"Everybody reported," Ater said. "Our deadline was before the pope came and people just poured in their final pledges. We had a ton of schools. We had 73 schools take part in this and in all 141 parishes, schools and organizations pledged."
Ater, who will be in Philadelphia during papal events there, said the campaign not only welcomed the pope, but made a difference.
"It was a real tangible example of the impact we can have when we all work together," Ater said. "We have seemingly insurmountable problems and issues and suffering, and sometimes we feel we can't make an impact. But we're part of a big church, even locally. If we rally around a cause together, we can make a real impact in our community."
Ater said Archbishop Schnurr will pen a letter to the papal nuncio to the United States to inform the Holy Father of the efforts the Archdiocese of Cincinnati has put forth in honor of Pope Francis' historic visit.
A comprehensive update of Food For All: Be Multiplied, will appear in the October print edition of The Catholic Telegraph.
Posted Sept. 23, 2015