Archdiocese of Cincinnati launches official Twitter account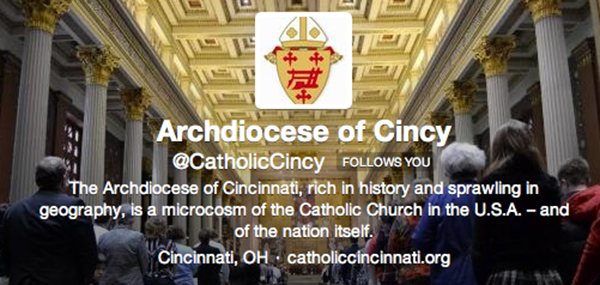 By John Stegeman
The Catholic Telegraph
#CatholicCincy may soon be a trending topic on Twitter.
Following in the footsteps of Pope Benedict XVI and Pope Francis, the Archdiocese of Cincinnati launched its official Twitter account on Wednesday, July 3.
The new account, under the handle @CatholicCincy, is a joint effort between the New Evangelization and the Communications offices of the archdiocese. New Evangelization office Director Sean Ater expects to do much of the tweeting in conjunciton with Communications Director Dan Andriacco.
More Twitter-related stories
@Cathtelegraph sends 1,000th tweet
Following Benedict's footsteps, Pope Francis joins Twitter
Pope Benedict launches Twitter account 
The Archdiocese of Cincinnati has had social media presences on Facebook and Youtube for more than a year. Different archdiocesan offices have each maintained their own social media pages but the addition of the new Twitter handle means there will be an official archdiocesan account on each of the nation's top three social networks.
"It seemed like an obvious next step," Ater said. "Social media is all about listening. We had someone ask on Twitter through the Being Catholic account, 'Is there an Archdiocese of Cincinnati Twitter account?' And no, there wasn't one out there. They said, 'Well you should make one.'"
Twitter, which was founded in 2006, is a microblogging site. The site allows users to have followers, and to follow the posts of others. Its defining feature is that it limits each post to 140 characters. Another feature allows users to use a hashtag to mark posts with a category that is easy to find. During the March for Life in Washington D.C., for example, users would post their thoughts and write #March4Life. If anyone then searched #March4Life, they would see all the posts with that hashtag.
The fastest growing demographic on Facebook is no longer young people, but their parents generation. Ater said Twitter has a younger user base, but the growing presence of all generations on social media makes it important for the archdiocese to be represented.
"We used to put people in categories and say the younger generation is using technology and gets all this stuff and the older generation is never going to adopt it," Ater said. "But I think we've seen a slow adoption from the older generation too because that's just the way the world is moving. Many of them want to communicate with their relatives and get up to date information and the best way to do it now is these new technologies."
Pope Benedict XVI led by example in December of 2012 by launching @Pontifex, the papal Twitter account. Pope Francis has continued to use the microblogging site to promote the faith and his message. The new @CatholicCincy joins other Catholic dioceses from Ohio on Twitter including Cleveland (@DIOCESEofCLE), Toledo (@DioceseToledo), and Youngstown (@DOYoungstown).
"Twitter is a younger demographic than Facebook usually," Ater said. "It is quickly becoming one of the best ways to get breaking news. If the pope is on (Twitter), we should be on."
@CatholicCincy's first tweet July 3 was a link to a USCCB Youtube video about conscience protection.
Speak Up for Conscience Rights Today!: http://t.co/6FqSiMGBhi via @USCCB #Fortnight4Freedom

— Archdiocese of Cincy (@CatholicCincy) July 3, 2013

Follow the Archdiocese of Cincinnati Twitter account here.
Follow The Catholic Telegraph on Twitter here.