Family Activities for July 2013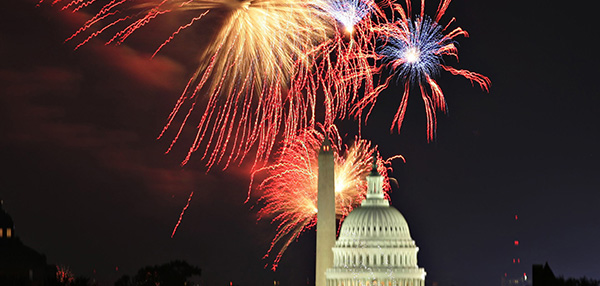 Staff Report
By the time July arrives, school is a distant memory for children and vacation season is in full swing. While grill outs and fireworks are great ways to spend quality time with the family, here are some suggestions for a more spiritually fulfilling July.
Fortnight for  Freedom
For your 4th of July Celebration, add a prayer service celebrating religious freedom as part of the Fortnight for Freedom.
Opening Reading: Ezra 1: 1-5; Genesis 12: 1-7
Discuss the Bill of Rights: The First Amendment: Congress shall make no law respecting an establishment of religion, or prohibiting the free exercise thereof; or abridging the freedom of speech, or of the press; or the right of the people peaceably to assemble, and to petition the Government for a redress of grievances
Moment of Silence : for all persecuted throughout the world because of their Christian beliefs.
Pray: Prayer for the Protection of Religious Liberty
O God our Creator,
from your provident hand we have received
our right to life, liberty, and the pursuit of happiness.
You have called us as your people and given us
the right and the duty to worship you, the only true God,
and your Son, Jesus Christ.
Through the power and working of your Holy Spirit,
you call us to live out our faith in the midst of the world,
bringing the light and the saving truth of the Gospel
to every corner of society.
We ask you to bless us
in our vigilance for the gift of religious liberty.
Give us the strength of mind and heart
to readily defend our freedoms when they are threatened;
give us courage in making our voices heard
on behalf of the rights of your Church
and the freedom of conscience of all people of faith.
Grant, we pray, O heavenly Father,
a clear and united voice to all your sons and daughters
gathered in your Church
in this decisive hour in the history of our nation,
so that, with every trial withstood
and every danger overcome—
for the sake of our children, our grandchildren,
and all who come after us—
this great land will always be "one nation, under God,
indivisible, with liberty and justice for all."
We ask this through Christ our Lord.
Amen.
Closing: Have your family sing "America the Beautiful", "God Bless America", etc.
Adding a retreat to your vacation
Whether the family is traveling or having a staycation this summer, each day add a spiritual retreat to your vacation. Begin with Morning Prayer, and the daily reading. If you're traveling, find a local church and attend a few masses that week. If you're staying at home, travel to a church you haven't visited and attend mass. If you're traveling, take in the landscape and reflect on God's majesty. At home, look intently at your environment and celebrate God's gracious gifts. End the day with evening prayer and song.
Being with the Lord unplugged
Take one hour each week and shut down the phones, text, Cable TV, Facebook, Twitter, etc. and spend an hour with the Lord unplugged. Find a spot where you can take in God's sunshine or moonlight, say the rosary, read the Sunday readings, spend time in silence and listen for the Lord's call.
The Feast Day of St. Mary Magdalene
Every Good Friday we take time and pray at the foot of the cross. Monday, July 22nd is the feast day of St. Mary Magdalene. Spend some time and pray at the foot of the cross as Mary Magdalene. Take stock of your summer, what has been good, what may need a little work, and at the cross, reflect on the past few months. Perhaps there is a friend or family member who needs your care, an in the spirit of St. Mary Magdalene, spend time in service to them. As a family write out some petitions and go to your local parish and either before or after mass, let the Lord know your needs.