Badin's David Berg scores perfect 36 on ACT college test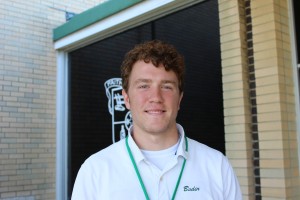 Badin High School senior David Berg admits that he was surprised and a little confused when he opened his ACT score on his iPad and it showed a composite 36. "I wasn't really sure – I didn't really think I could actually get that score," Berg said with a slight smile after posting a perfect result on the college admissions test.
"I'm so proud of David – this is such a rare accomplishment," said Angie Bucheit, Berg's guidance counselor at Badin. "I was so excited when I saw his score – maybe more excited than he was!"
David Berg is the son of David and Cecilia Berg of Oxford and a graduate of Queen of Peace School in Millville. The perfect ACT score comes on the heels of his being named a National Merit Scholarship semifinalist last week, meaning he scored in the top 1 percent of all students in the country on the PSAT that he took as a junior at Badin.
"I just go take the test and try to do the best I can," Berg said of his testing prowess. He scored well enough on the High School Placement Test that he earned a 100 percent academic scholarship when he entered Badin in August of 2013. "It's not like you go in expecting to do that well."
Berg had scored a 35 on the ACT when he took it earlier, but hadn't taken the writing portion of the test and needed to take it again. That second go-round led to the composite 36. "You pay attention in class and try to remember what you learn," said Berg of his academic skill. "You use what you learn to help you on the tests."
Berg plays football for the Rams and is a member of the Scholar/Leader Academy. He is uncertain of his college plans other than majoring in science. "I'm just going to take classes for the first couple of years and wait and see what interests me," Berg said. "I want to get the general classes out of the way before I decide what I want to focus on." Berg's top college choices include Notre Dame, Rice, Stanford and Vanderbilt.