Throwback Thursday: National Dear Diary Day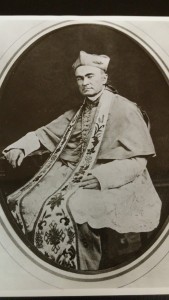 by Sarah Patterson
"Dear Diary Day" isn't exactly a well known holiday, celebrated, or even known without a google search of "odd holidays." But, celebrated today, September 22, this gives us a chance to highlight two diaries in the Archives, and both belonging to two good friends.
The first diary belongs to Bp. John B. Purcell. Born in County Cork, Ireland in 1800 and ordained in 1826 in Paris, Rev. Purcell was a teacher and then later the president of Mount St. Mary Seminary, Emmitsburg, Md. His appointment as the second bishop of Cincinnati brought him out west to take on this young and large diocese. Embarking on this new assignment, Bp. Purcell began with the goal to keep a journal. First writing in November 1833, he first gives the headline, "Redde Rationem Villicationis Tuae. – Luke 16:2." This translates to "Give an Account." The scripture verse is from the parable of the rich man with the dishonest steward who commanded the steward to write an account of his dealings. Taking this to heart, Bp. Purcell commenced this diary to present to God an account of his role as shepherd. Unfortunately, the responsibilities of the Bishop of Cincinnati, which encompassed the entire state of Ohio, kept him from continuing the journal. His last entry is April 1836. Over these 2 1/2 years, his entries would become shorter and shorter, as time became more precious.
Here are some samples of what Bp. Purcell recounted, giving a picture of life in Cincinnati in 1833-34.
November 1833. "Had many arduous duties to perform, tho' frequently interrupted by kind children coming to visit their new and long looked for Spiritual Father-Arranging the preliminaries for the transfer of the property of the late Bishop, Rt. Revd. Dr. Edd. Fenwick…For departure of Bp. Rese, see Telegraph of this date. I had to give him my note for upwards of 500 Doll. to meet the demands of Grocers, Dry Goods men, etc. etc. for value recd. by the inmates of the Coll. & Sem. before my arrival! Thousands upon thousands of Dollars had been expended on buildings which are ill-constructed & inconvenient, of wretched materials, half-finished, leaking, mill-dewed roofs & walls: floors loose & badly laid, hydrants left insecure against external injury."
For past Throwback Thursdays check these out:
http://www.thecatholictelegraph.com/our-mother-of-sorrows-roselawn/35756
http://www.thecatholictelegraph.com/throwback-thursday-a-church-for-our-ladys-birth/3569
http://www.thecatholictelegraph.com/throwback-thursday-archdiocese-on-camera/35500
http://www.thecatholictelegraph.com/throwback-thursday-catholic-position-radio-show/35399
Welcome to Throwback Thursday, an online feature wherein users of social media share an old photo or anecdote about times gone by. The Catholic Telegraph partners with the Archdiocese of Cincinnati Chancery Archives' blog Laboring on the Mission to bring you a bit of local history each week.