Bleacher Brothers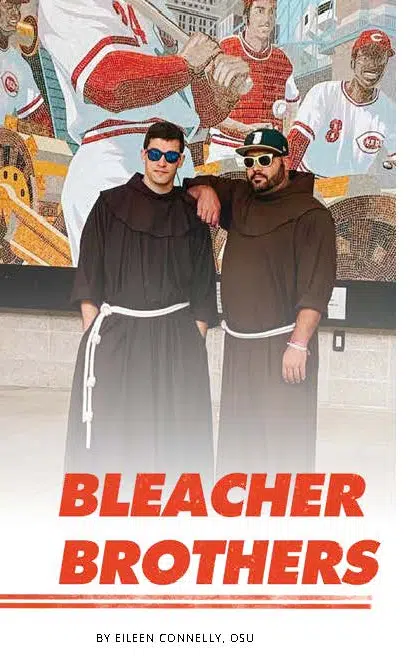 A cross-country journey by two young friars was a baseball lover's dream come true, but there was much more to it for Franciscan Fathers Casey Cole and Roberto "Tito" Serrano. These "Bleacher Brothers" hit the road in May to visit every Major League Baseball stadium in the U.S. (30 total!) and meet people where they are—then invite them to return home to Jesus and His Church.
Nine years in the making, the journey originated during their novitiate, amid frequent discussions about what it means to be a Franciscan, which included stories of how St. Francis of Assisi and the early brothers did not just preach to people in churches, but wherever they gathered. In the Middle Ages, this meant the town square, but the 21st Century friars in formation were charged with finding a way to do this in their own century. Father Cole has embraced this mission through blogging, social media and his YouTube channel, "Breaking in the Habit."
Both friars are members of Holy Name Province, based in New York City. Ordained on June 22, 2019, Father Cole has been a chaplain since 2020 at Mount de Sales Academy in Macon, GA, while Father Serrano, ordained Dec. 5, 2020, is an associate campus minister at Sienna College in Loudonville, NY.
Father Cole described the 11-week-journey as "one part childhood fantasy, one part Americana adventure and one part radical evangelism." He and Father Serrano wore their habits to every game, hoping to spark curiosity and conversation, and spoke at churches, schools and other venues along the way.
"It was a great experience, one of the best we had, even with a two-hour rain delay," Father Cole said. "That gave us more time with the young adults who were there, including one young man who will be entering the seminary."
Fathers Cole and Serrano's trip began with a May 20 Miami Marlins game and included Cincinnati on May 27 for a Reds win over the San Francisco Giants. On May 28 they participated in a young adult event at BLOC Coffee in the Incline District of Cincinnati, where the discussion focused on discernment, vocations, dating, evangelization and baseball. This, and other gatherings along the way, provided "a really great opportunity to evangelize," Father Cole noted. "[As Franciscans] we show love, justice, peace and reconciliation through encounter. We need to foster encounter with our Lord, and that comes from the Word of God. Once we've encountered Jesus, then our call is to share that encounter with others. We've found young people are yearning for this."
"It's incredible what the Lord can do when someone says 'yes' to a crazy idea like a ballpark evangelization tour," said Wayne Topp, managing director of Adult Evangelization and College Campus Ministry for the Archdiocese of Cincinnati. "On the surface, this looks like the dream summer of many young men across America. However, when you get into the details, you can truly see the movement of the Holy Spirit. At the event we helped to host at BLOC Coffee, the Bleacher Brothers drew a small crowd and they spoke about mundane everyday life things and deep spiritual truths that need to be heard. They even gave tips on how to evangelize (it all starts with seeing the other person as another child of God). In the end, they touched my heart, and they energized the small crowd to live their faith with more conviction. Who knows how many more people will be touched by these few people, but it all started with a simple yes. In the end, it challenged me to be more courageous in my response to the Lord's invitations in my life."
The response from those they encountered during their journey was "overwhelmingly positive," said Father Cole. "People came up to us throughout the tour to share with us, and it was extraordinary when we prayed with them—so many moments of grace. There was someone whose mom had just been diagnosed with cancer. He wasn't expecting prayer, so that was especially moving."
The Bleacher Brothers shared some highlights of their Cincinnati visit in a YouTube video, including their thoughts on Great American Ball Park and a review of Skyline Chili. In a segment called "Walk and Talk," they replay their warm welcome at St. Francis Seraph Friary in Over- the-Rhine from Franciscan Father Mark Soehner, provincial minister of St. John the Baptist Province. He led them on a tour, shared his vocation story and gave a blessing for viewers. Fathers Cole and Serrano both noted how inspired they were by Father Soehner's warm and gentle servant leadership.
The baseball pilgrims split the driving for the first 9,000 miles, with the blessing of no flat tires, then took to the air for the trip's western leg, wrapping up their 17,000 mile mission on July 30 in Colorado, where the Rockies faced the Los Angeles Dodgers. The pilgrimage proved meaningful for Father Cole on both a personal and spiritual level. "On the baseball side, I held a bat held by Babe Ruth. Sharing in that history and tradition was amazing. My dad flew out for part of the trip and walked onto Wrigley Field with me. That meant a lot," he said.
"I've been preaching and doing YouTube by myself, so over the summer I really found out that friars are better together," he added. "Jesus sent His disciples out two by two and that common witness is powerful."

This article appeared in the September 2022 edition of The Catholic Telegraph Magazine. For your complimentary subscription, click here.