Brandell Brings Faith Book to Life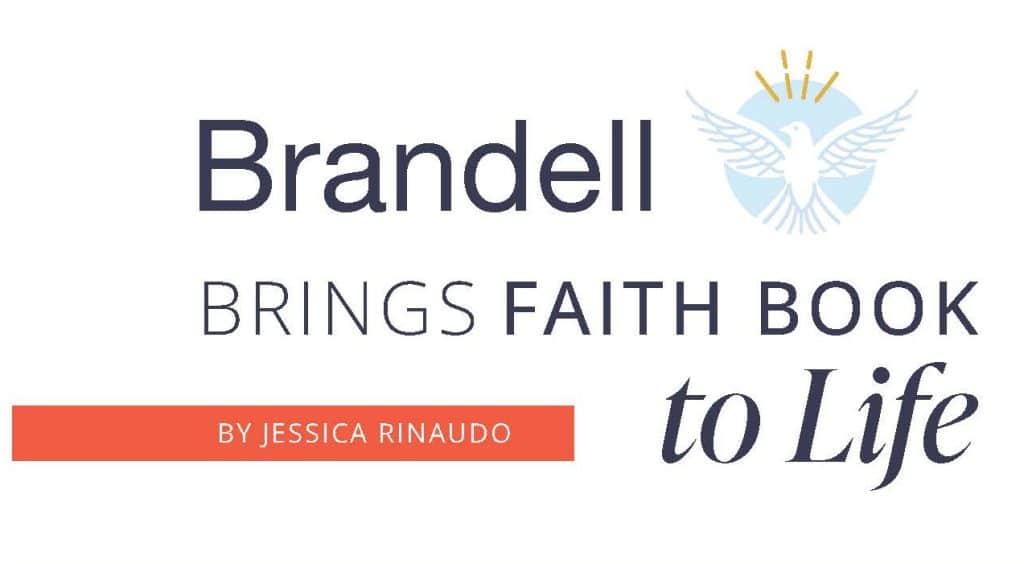 Rick Brandell, a member of St. Maximilian Kolbe parish in Liberty Township, was inspired to write a children's book about faith while praying the Rosary one day. He mulled over that seed of inspiration for six months before deciding it was time to act.
"The idea was that I should write a children's book helping kids understand the concept of spirit, and that I should use as my template F.J. Sheed's classic work of introductory theology, Theology for Beginners… But, once I got started, it took four years of working on it in my spare time to complete," said Brandell.
And while four years may sound like a long time, Brandell was meticulous about the book's craft. With 34 pages and original illustrations, he was prepared to take the time to create what he imagined. But Brandell stuck with it, compelled by the Center for Applied Research in the Apostolate at Georgetown University that documented that children are losing their faith at an ever-decreasing age.
"A random sampling of young people were surveyed who were raised Catholic, but left the Church, and asked why? Of course, there were lots of reasons, but out of the six most frequent answers, half were for reasons related to science and lack of proof for the existence of God," said Brandell. "… The average age that a child leaves the Catholic faith is just 13 years old, with 23% leaving under the age of 10. So, Mom and dad may still be taking these kids to church, but mentally, they've left, just sort of checked out. So, this must be addressed."
Titled Look With Your Spirit, the book concept Brandell settled on tells the story of a father and his young daughter, Rose, on a trip to the park. While there, Rose asks her father, "Where is God?" Despite his answer of "God is everywhere," Rose remains confused because she can't see God.
"And the question [in the book is] this: 'If I can't see God, hear God, touch God using my senses – that is – my eyes, my ears, etc., does God really exist?'" said Brandell. "Now, there's a theological answer to that question that children can easily understand, so the book is a tool to help parents teach their kids. But it all begins with understanding the nature of spirit."
Brandell asserted that children can understand theological concepts, especially if they are presented in an approachable way. "I remember being with a group of friends on the playground in third or fourth grade when one of them remarked, "If God doesn't exist, how did all this stuff get here?'" said Brandell. "While not stated with the same precision, my childhood friend quite nicely summed up Thomas Aquinas' first proof for the existence of God. … Nobody thought our friend's remark was particularly brilliant. … How does something come from nothing? Of course, children are too young for college level theology, but we don't have to wait for kids to grow up before teaching the basics."
Through the use of illustration Look With Your Spirit teaches three important lessons: What a spirit is not; what a spirit is; and what a spirit does. "A spirit knows and loves. Can our thoughts be measured or our love weighed? Doesn't most everyone believe that these are the two most important and powerful things in the world? The atom may contain great power, but what's more powerful, the atom or the immaterial mind that learned how to split it?" asked Brandell.
The book is a tool to help parents teach their kids. But it all begins with understanding the nature of spirit.
Brandell has been a professional pilot for over 30 years. In 1994, while living in Ypsilanti, MI, he took a job flying night cargo out of CVG. However, the commute from Michigan was less than ideal. In March of 2000, Rick moved his wife Judy and two young daughters, Maria and Hannah, to West Chester in order to be together more as a family. Currently, Rick flies private air charter and is still based in Cincinnati.
Look With Your Spirit can be purchased on Amazon and Barnes & Noble. Locally, it's available at The Catholic Shop in Madeira; the Holy Spirit Catholic Shop at Our Lady of the Holy Spirit Center in Norwood; and West Chester Toys in West Chester.
This article appeared in the March 2023 edition of The Catholic Telegraph Magazine. For your complimentary subscription, click here.