Catholic groups on display as Cincinnati celebrates Opening Day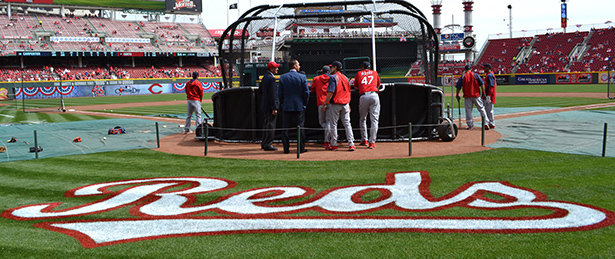 By John Stegeman
The Catholic Telegraph 
While certainly not a holy day and technically not even a holiday, Opening Day for the Cincinnati Reds is a big deal to the city of Cincinnati.
Just as historic as the Reds and the games themselves is the Findlay Market Opening Day Parade, which this year featured various Catholic groups.
Despite a solid performance from Reds' starter Johnny Cueto, Cincinnati lost the March 31 game 1-0 courtesy of a solo home run by rival St. Louis Cardinals' Yadier Molina. The loss came long after the parade, however, which featured Reds fans of all types full of excitement.
Included in the photo gallery below are pictures of DePaul Cristo Rey High School, Badin High School's Badin Rocks, Roger Bacon High School's marching band, the Franciscan Friars and students from St. Francis Seraph school, Xavier University, St. Veronica's band, Cincitalia (St. Catharine of Siena), Chatfield College and the Knights of Columbus.