Catholic high school reaches 100 percent college acceptance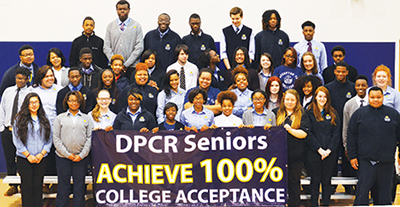 Staff Report
DePaul Cristo Rey High School in Cincinnati announced last week that 100 percent of its first graduating class of seniors have been accepted to college.
The celebration March 13 included the unveiling of a banner announcing the milestone. A DPCR press release stated that 100 percent college acceptance was the initial goal of the schools inaugural freshman class when the school opened in 2011.
"Many, many people have been instrumental in opening, operating and supporting DePaul Cristo Rey at a time when some questioned the need for another Catholic high school," said school president Sister Jeanne Bessette, OSF. "The uniqueness of DPCR's mission, its dual-focus program of rigorous academics and a Corporate Work Study Program, and the needs of those we serve set us apart. Today we are pleased to announce that we have kept our promise to Greater Cincinnati to transform young people into college-ready young women and men of integrity, faith, tenacity and purpose."
DePaul Cristo Rey's class of 2015 includes 48 seniors, all of whom have now been accepted to at least one college. The class has also earned more than $2 million in scholarships. DPCR's commencement will take place May 31 at Mount St. Joseph University.
DePaul Cristo Rey is sponsored by the Sisters of Charity of Cincinnati. It is one of 28 Catholic schools in the nationwide Cristo Rey Network which serves 9,000 students.
Posted March 16, 2015