Catholic School grads form web development company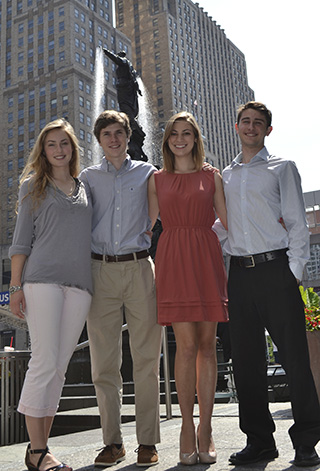 By John Stegeman
The Catholic Telegraph
Are you the managing director of your own company yet?
Mike Letscher is, and he graduated from St. Xavier High School just last month.
Letscher, along with fellow St. X grad Matthew Bogner, Seton High School grad Rachel Stock and St. Ursula Academy grad Mackenzie Himmelbauer, recently formed 3cogs, a web development company.
All four are graduates of Catholic high schools located within the Archdiocese of Cincinnati and they all share a love for their home city.
"I had been doing web development for about six or seven years," Letscher said. "Recently, Matt had approached me and asked if I thought it was a good idea to start a company. I thought it was a great idea. We both had a big interest in Cincinnati, the culture behind it and all the small businesses in it… We thought we could help local business by helping them create websites because a lot of the small businesses around here don't have great websites."
Bogner's role in the company is as market researcher. Himmelbauer (client relations coordinator) and Stock (graphic designer) joined the team and all that was left was to come up with a name.
"We really liked the name 3cogs because it was easy to remember and it stood for personal, functional and innovative," Letscher said.
Perhaps their most innovative aspect is their youth. All four members of the company graduated from their respective Catholic high schools in June. They founded 3cogs in May.
The company may be new, but they've had no trouble finding clients that need upgrades to their websites or social media presence. Their first client, Peer Clear, is a company that makes windshield wipers for motorcycles. 3cogs has also been contracted by the Ursuline Sisters of Cincinnati to redesign their website.
"Our number one priority is getting face to face communication with them and setting up a meeting," Bogner said. "That's when we really get to know what they need and what we can help them with."
"We will also target city events like Taste of Cincinnati and City Flea," Himmelbauer added. "We go there as a group and talk to them in person."
"Then we can just learn about them, and that's something we really enjoy," Stock said.
The group will be off to college in the fall. Letscher and Himmelbauer will attend The Ohio State University, Stock will attend Miami University in Oxford and Bogner will attend DePaul University. Letscher said 3cogs will continue throughout their college education.
Three of the four members of 3cogs are Catholic, but each of them stressed how their Catholic high school education impacted their development and the way they run their company.
"A lot of what has made 3cogs so special is St. Ursula is a school of faith, integrity and courage," Himmelbauer said.  "It takes all of those things to be able to approach someone you don't know and to be a difference… Having the courage to be able to do that is something I've really found in a small school setting."
"St. X has always been very community focused," Letscher said. "They've always encouraged you to go out and make a change or help change the world in some way. It was less centered on learning for yourself or learning to make money."
"Seton is all about sisterhood," Stock added. "I know the Sisters of Charity motto is 'humility, simplicity and charity.' … It makes us want to go out and help other people."
Bogner summed up the balance the group hopes to strike between being profitable and being a service to the city.
"One of the things in my St. X experience that affects the business the most is the 'meant for others' thing," Bogner said. "Business is not immoral or mean spirited, but it is not necessarily a good thing either. It is what you make out of it. What we want to do with our business is, yeah we want to make some money, but that's not necessarily our number one goal. We also want to help out small businesses and bring them into the 21st century and get them up to date and ultimately help the city."
3cogs can be found online at www.3cogs.com.