Chatfield College begins renovation on new Cincinnati campus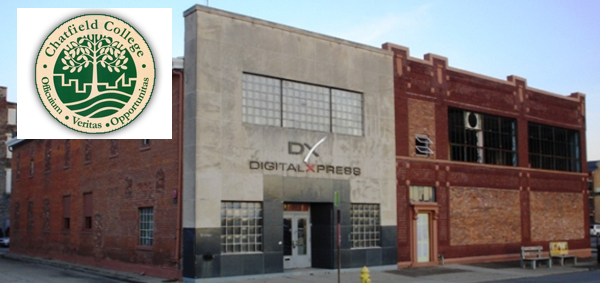 Staff Report
Chatfield College has commenced the renovation of a historic building for use as its new permanent Cincinnati campus in Over-the-Rhine.
Located at 1544 Central Parkway, the 18,000 square foot building will provide a permanent, downtown campus for Chatfield students. The college is currently leasing space at 1800 Logan St. also in Over-the-Rhine.
The new campus will include classroom space, science and performing/visual arts labs, a high-tech learning center, and chapel.  There will be easy access to nine city bus lines, bike lanes and eventually the streetcar. The majority of current Chatfield students rely on public transportation.
"We have been a part of the Over-the-Rhine community for many years, and we are committed to the future of this area and the population it serves," said John P. Tafaro, President.  "When it became apparent that we outgrew our leased space above Mercy/St. John's Social Services, and began planning for a permanent Campus, we chose to invest in the revitalization of Over-the-Rhine because we believe this area should have a regionally accredited liberal arts college here to serve its residents, as well as adult-learners and traditional-aged students in surrounding neighborhoods ."
Chatfield College offers a two-year, liberal arts curriculum, and awards the Associate's Degree in liberal arts.  An open enrollment college, prospective Chatfield students need only have a High School Diploma or GED to attend. Because Chatfield is fully accredited by the Higher Learning Commission, students can attend the Findlay Market campus and transfer credits to virtually any accredited four-year college.
The new location was most recently owned by a printing company, but was originally built in 1870 as a stable for a local brewery. It has remained largely vacant for several years.
A report by the Cincinnati Enquirer said the renovation will cost $3.4 million.
The exterior of the property will retain its historic character while the rebuilt interior will provide much-needed classroom space, study areas and learning centers for students.Endeavor Construction is the general contractor, and work is expected to take 10 months. Emersion Design is the project architect, and Gray & Pape served as historic consultant.
Plans are underway for a ceremonial groundbreaking on Saturday, Nov.8 at 10 a.m.  The ceremony will be followed by a community celebration in the city park next door, with music, food, children's activities, and a student art exhibit, all open to the public and free of charge.  For more information, call 513-875-3344, ext. 124.
For more information about Chatfield College, visit the website, at www.chatfield.edu, call 513-875-3344 or email [email protected].

Posted Oct. 25, 2014