Christopher Wilke is named principal of DePaul Cristo Rey High School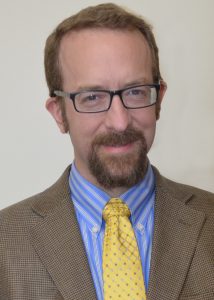 President Sister Jeanne Bessette has appointed Christopher Wilke as DePaul Cristo Rey High School's new principal. Chris has been a DePaul Cristo Rey teacher and a director in the Corporate Work Study Program; he becomes the school's second principal.
"Chris has a deep commitment to DePaul Cristo Rey's students and mission, as well as a vision for our school's academic growth as it matures from its start-up phase," says Sister Jeanne. "His appointment followed a search process that involved all of DPCR's stakeholders including teachers, students, parents, alumni, and Board of Directors, as well as representatives of the Cristo Rey Network."
Chris is a respected, long-time Catholic educator. Prior to joining the DPCR community in 2013 as a social studies teacher, he served as a teacher and the dean of academics at Cincinnati's Moeller High School. He has also been a social studies teacher at Purcell Marian and McNicholas high schools. At DPCR he taught the school's first AP class, U.S. Government, as well as Economics and U.S. History. He was recognized by Cincy Magazine as one of Cincinnati's Outstanding Educators in 2014 and received DPCR's Educator of the Year Award in May 2017.
In August 2016, Wilke was tapped to serve as DPCR's director of curriculum and instruction for the Corporate Work Study Program, leading the effort to enhance the professional development and training of students to better prepare them for the demands of their work-study positions. He is a graduate of the University of Dayton, and holds a master's degree in educational administration from Xavier University.
"As principal of our school, I plan to enhance and grow our academic program that prepares our students for college while assisting them to discover and embrace their passions as young professionals," says Wilke. "It is critical that we enhance the alignment of our curriculum, college guidance support, and Corporate Work Study Program to best serve our students for their long-term growth academically, professionally and spiritually."
A member of Nativity Parish, Wilke lives in Pleasant Ridge with his wife and two children.
---
DePaul Cristo Rey, sponsored by the Sisters of Charity of Cincinnati, offers a nationally recognized, dual-focus education model to students whose families can't afford other private, college preparatory programs. This education model, not available at any other local high school, partners challenging college preparatory academics with a Corporate Work Study Program (CWSP). It is one of 32 Catholic high schools in the nationwide Cristo Rey Network® which serves 11,600 young people.