CISE presents Faith in Education Awards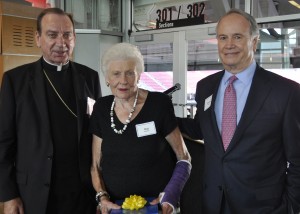 Catholic Inner-City Schools Education Fund (CISE) awarded two Faith in Education Awards for 2016, one to the Cincinnati International Wine Festival, and the other to Brian Brockhoff.
Archbishop Dennis M. Schnurr made the presentations at the annual CISE Campaign kick-off celebration at Great American Ball Park.
The award is presented to people and organizations who have provided outstanding support for advancing CISE and its mission. Both recipients are long-time and generous supporters.
Brockhoff's gifts of time, talent and treasure are priceless, a CISE spokesperson said. He was responsible for starting the CISE Young Executive Group when he joined the board in 2000. The YE Group has raised upwards of $10 million since its inception.
Senior vice president – Commercial Real Estate Group Manager at BB&T Corporationm Brockhoff currently serves as vice chairman of the CISE Advisory Board.
The Cincinnati International Wine Festival has been a bright spot in this the fundraising community for 27 years. During that time, the non-profit organization has donated more than $4.9 million to local charities. CISE has been among them since 1997.
Cincinnati International Wine Festival board members Marj Valvano and George Elliott accepted the award on behalf of the organization.
CISE supports eight urban schools in and around Cincinnati, and awards grants to help CISE school graduates afford Catholic high school. More than 90% of the CISE school students live below the poverty level and 78 percent are not Catholic. The 2016 campaign ended in January; the 2017 campaign will begin in the spring.