Co-Ed receives grant for teacher training, books for students
June 11, 2012
By Natalie Corzine Moore
Cooperative for Education (CoEd) received a $20,000 grant last month from the H.B. Fuller Company Foundation,based in St. Paul, Minn., to support its Culture of Reading Program (CORP) that helps train primary school teachers in Guatemala and supplies books for their classrooms.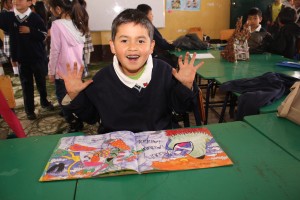 CoEd is a Cincinnati-based non-profit organization with offices locally and in Guatemala. Its goal is to break the cycle of poverty in Guatemala by providing educational resources and opportunities to indigenous Mayan schoolchildren in Guatemala's central and western highlands. CoEd's mission is "to implement sustainable textbook, computer, reading and scholarship programs in impoverished schools in Guatemala." It strives to address the root causes of poverty in the country.
CoEd was founded in 1996 by brothers, Joe and Jeff Berninger. Both Xavier University graduates, the brothers  became interested in Guatemala after a visit in the early 1990s, with Jeff Berninger taking time off from his corporate job to volunteer in the Guatemalan school system. After witnessing firsthand the lack of resources, including limited access to basic textbooks and no technology, and its effect on school drop-out rates, he decided to help the school system with resources to improve learning.  Eventually both brothers left their private-sector jobs with IBM and P&G to address poverty in Guatemala.
CoEd provides textbooks, computers and scholarships to more than 100,000 underprivileged children. CoEd has trained more than 250 teachers in rural areas in the country and provides books to more 200 schools (about 10 percent of the country's middle schools. Today, CoEd is recognized as one of the leading development nongovernmental organizations in Guatemala by the Center for Sustainable Development and provides international service opportunities through project tours.
H.B. Fuller is an adhesive company with a global philanthropic foundation that focuses on improving the quality of life in the communities where it does business. According to Kimberlee Sinclair, executive director of the H.B. Fuller Company Foundation, "We continue our support of Cooperative for Education because we believe in the sustainable change they bring to our Guatemalan communities. The H.B. Fuller Company Foundation considers supporting youth in communities where our employees live and work a corporate priority. Cooperative for Education helps us fulfill that mission through quality education initiates for the next generation."
CoEd co-Founder and executive director Joe Berninger expressed thanks, saying, "We are thrilled to partner with H.B. Fuller again this year to bring educational opportunities to impoverished students in Guatemala through the Culture of Reading Program. H.B. Fuller is very focused on giving back to the communities where they do business, and we are happy that they recognized CoEd as an impactful steward of their contributions."