St. Charles organ recognized for historical merit
June 11, 2012
CARTHAGENA — The organ in the Chapel of the Assumption at St. Charles Center, owned by the Missionaries of the Precious Blood, has been recognized as a historic organ by the Organ Historical Society (OHS). The OHS recognizes organs in North America that remain true to the musical masters who built them.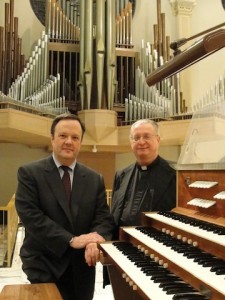 The St. Charles organ was installed in 1961. It was built by Walter Holtkamp Sr., a renowned organ-builder whose company was based in Cleveland. Precious Blood Father William Kramer, a Coldwater native, and the late Father Larry Heiman oversaw the organ-building process at St. Charles, including working with Holtkamp on the specifications for the organ.
The Missionaries received an OHS citation for their Holtkamp organ during a recital held on April 17 in the chapel. The citation recognizes their stewardship of the organ, especially during a recent chapel renovation.
"Great care was taken in selecting and creating this instrument, which was a great collaborative effort between the Missionaries and the Holtkamp Organ Company," saiid Stephen Schnurr of the OHS, who both presented the citation and performed in the recital.
Many organs that were once masterpieces of the craft of organ-building are no longer in existence, Schnurr added, but during the "recent restoration of this chapel, great care was taken to put this organ back into its original condition as it was when it was installed in 1961."
The OHS' historic organ citation program is very selective, Schnurr said. "If you consider that many tens of thousands of pipe organs have been built throughout the United States and Canada, and you realize that only 400 organs have been selected for this award, you will realize that this organ is in very select company."
Precious Blood Brother Ben Basile, an organist and educator, completed the application process for the Missionaries. "Preservation of the organ has always been important to us," he said.
The organ has been in continual daily use since its installation, except during the most recent renovation to the chapel, completed in 2009. "The organ in the St. Charles chapel has been such an important part of our community worship. It has led us into prayer more times than anyone can count," said Precious Blood Father Larry Hemmelgarn, the provincial director of the Cincinnati Province.
"As a province we are profoundly grateful to all the community organists, past and present, who have taken such wonderful care of the organ and preserved it for the next generation of Missionaries."