Coldwater parish celebrates 150 years of faith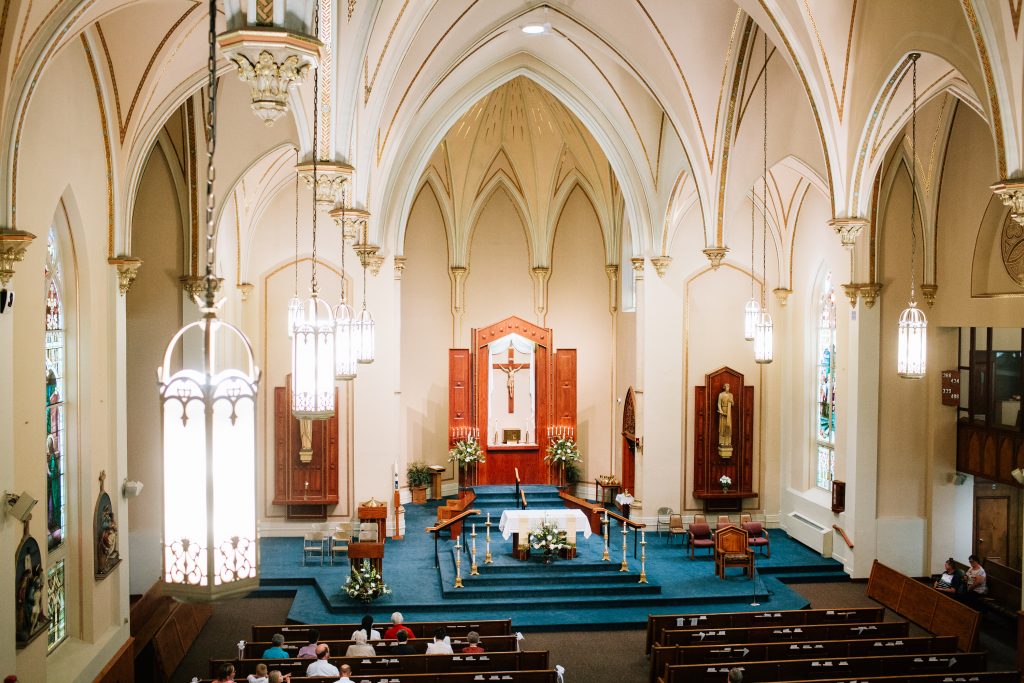 Shortly after the Civil War, things were booming around the Village of Coldwater, Ohio, in Mercer County, where mostly German immigrants were farming, felling timber and watching the Iron Horse come to connect them to Dayton and other large commercial hubs.
in 1867, three Catholic Coldwater families approached Father Jacob Rengele, pastor of St. Mary in Philothea, some three miles up the road, asking him if he was willing to hitch his horse and come to Coldwater to celebrate Mass. He agreed.
Cincinnati Archbishop John Baptist Purcell approved the new parish, and it was named Holy Trinity since three families established it. A corner lot was purchased for a dollar, and the first church was dedicated in 1868.
Current Father Richard Walling, said Coldwater prospered. While the surrounding farm land was rich and harvests plentiful, "the thing that really put Coldwater on the map was manure spreaders. During the Industrial Revolution, they were looking for a better way to spread the cow poop and so the name of a local company became New Idea." The enterprise designed and built manure spreaders.
"I don't know what the New Idea was," Father Walling said, "but it was a big operation through the 1890s. We had a photo back … when the Vatican's had its own farm — a show farm — and the picture was of (manure spreading) machines made here at Coldwater and sent to Italy. You see some monsignor blessing them when they got to wherever the Vatican farm was located. So, it was a pretty prominent business and it put Coldwater on the map. We are in the heart of quality farming up here — country where you need that kind of equipment.
We had large German Catholic families who worked on the farm, so the business really provided a lot of jobs for people. It was that important because growth occurred and brought in people," Father Walling said
The current church was built in 1898. "The same architect designed St. Henry Church in St. Henry and Holy Trinity Church in Coldwater," Father Walling said, and noted the three parishes, St. Mary, Philothea, St. Henry and Holy Trinity, today form the Coldwater Parish Cluster, which he shepherds.
"Our church is in good shape. We take care of what we have. Within the last two years, we completed a half-million dollar (project) on our beautiful stained-glass windows. We'd like to know more about them. Some of the dedicatory materials are in German. We're uncertain where they were made. The craftsmanship is certainly top-quality — the sort of thing that you would typically think was done by the Germans.
Life-long parishioner Kathy Rutschilling was a member of the 150th anniversary committee and said "the three-paneled window in front of the church, in front of the choir loft, was done in 1917 — 10 years after all of the other windows were installed in 1907. There are 15 total."
"We were also looking for architectural pictures or prints, which we could never find, so one of the things father wanted was to let people know there is a catwalk in the main church. From the front door you have to go up to the choir loft and then climb up into the ceiling toward the roof. I was really intrigued by the catwalk. They used it to change lights. Father and I were up there and we wanted to make sure to take pictures. There's actual bark on some of the timbers up there," Rutschilling said.
Today, the parish numbers about 1,600 to 1,650 households, primarily all from the farming area. Most of the people grew up in the area. There are some small machine shops, such as Minster Machine, and Crown Lifting Equipment in New Bremen, where a lot of people work.
Many people can't support a family solely through farming, yet there is still a lot of farming blood and families remain. Someone in a family may get an engineering degree. "They'll work at Coldwater Machine or one of the other places," Father Walling said. "Mercer County has the lowest unemployment rate in Ohio. The work ethic here is amazing."
In celebration of 150 years, the parish received a congratulatory letter from Pope Francis. In it, the pontiff notes: "In an era of scarcity of vocations, your parish has been generous in producing vocations, including a priestly ordination this year! When faith in some areas is waning, Holy Trinity, with its high Mass attendance, strong family life, and dedicated parishioners, stands as a model of the New Evangelization. Through the efforts of the faithful in Coldwater, rightly is your region of the Archdiocese of Cincinnati affectionately called 'God's Country!'"
Archbishop Dennis M. Schnurr celebrated an anniversary Mass June 18. "We have offered a commemorative pewter medal," Father Walling said. "One of the things we're really proud of is on May 31 we fed more than 2,000 people —a free meal. We had parishioners go out. It's a town of about 4,000 but I wanted our people to go out door-to-door. We have a trailer court and subsidized housing and I wanted them to just say, 'Hey, you're invited. We're celebrating 150 years. Come celebrate with us."
"We're also doing one-on-one evangelization, taking a lesson from evangelicals about being more intentional about your faith. We're up to about 100 (participants)," he said. "I've been pastor, completing my 10th year. I love it here. I turned 65 and am doing a sabbatical in Rome in the fall. God willing and my health willing, I'd like to put in another 10 years here. We'll just see how it goes."