Dayton native explores connection between food and faith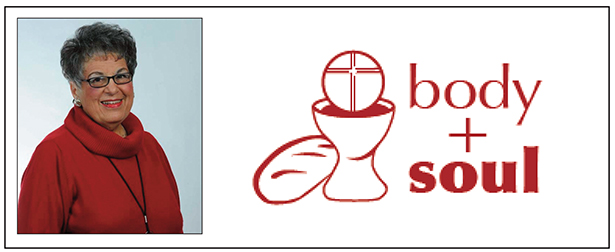 By Eileen Connelly, OSU
The Catholic Telegraph 
She knows food, said Francesca Franchina. And, the devout Catholic also knows her faith. Making the connection between the two is her passion.
Franchina's earliest childhood memories involve food and her appreciation for Italian cuisine is rooted in her Sicilian ancestry. 
 —-

Body & Soul is a feature that hopes to highlight faith-filled folks who nourish others through their ministries, other food related topics and perhaps even heavenly inspired recipes. Please send any story ideas to Eileen Connelly, OSU.

—-
"My grandparents were deep sea fishermen, and the women would pray when the men were out to sea," she explained. "We have many traditions and consider food holy, especially bread as it symbolizes Jesus, the Bread of Life. You never stab a knife into a loaf of bread and (always) treat it with care."
Her parents opened Longo's Twinkle Inn (Franchina's nickname is Twinkle), an Italian American Ristorante in Dayton in 1954, and prior to that were known throughout the Miami Valley for their open air market and fruit store.
"Food was my family's livelihood," she said. "My mom and dad, Biggie and Maggie Longo, were great cooks, artisans really."
She attended St. Joseph School in downtown Dayton, the then Julienne High School, and went on to graduate from the University of Dayton. Franchina produces and hosts a weekly radio program, "Francesca and Friends," for Radio Maria, which broadcasts in more than 60 countries (airs at noon Wednesdays on WULM AM 1600, Dayton/Springfield).
She admits that she didn't know how to cook when she married husband Joseph.
"I could not even boil water right. I burned the pans when I forgot to put the water in," Franchina said. "So I learned on the phone by calling and asking: 'Mom, how do you make sauce for the pasta, and meatballs?'"
They taught their five sons to cook and "we would have great talks, and lessons about Jesus, Mary, Joseph, the Holy Family and the grace of having food to eat and grow it in our garden," she said. "They learned from the age of three to help in the kitchen and with the chores and got more to do as they grew and wanted to experiment with cooking after they had apprenticed with me. They are almost better cooks than me, and in some areas, much better than me."
"We love to eat all God's foods, and from various ethnicities as well," Franchina said. "This is how we learned to appreciate other cultures by sharing their traditions and customs for holidays and various feast days. We have special cookies and breads for some feast days too, desserts and dishes to share. We are grateful to God for our food."
A member of St. Joseph and St. Luke the Evangelist in Beaver Creek, Franchina said both parishes have been instrumental in giving her the opportunity to gain experience in planning and producing, hosting seminars, workshops, retreats, prayer groups "and feeding me as well in the Body of Christ."
Although not all of her programs and presentations have focused on food, many have. This includes "Cooking, Counseling and Scripture: Francesca's Food for Thought," which aired for three years on Christian TV in Ohio, Indiana and Kentucky; and "Through the Tummy to the Heart: Italian Soul Food Sprinkled with Evangelization," on Radio Maria (archived at www.radiomaria.us).
Among her recent endeavors was a presentation at the University of Dayton Catholic School Summit on July 14 titled "Wake up and Smell the Rigatoni: Charism, Culture, Curriculum, Community, Creativity and the New Evangelization: Festa Fresca allá Francesca!" which offered participants the chance to develop efforts combining all elements of a faith-based experiential learning project to resuscitate, revive and renew zeal, fervor, faith, hope, charity and the New Evangelization.
Reflecting on her love for both sharing the joy of cooking and the joy of her faith, Franchina said, "We must use our gifts to do good in whatever way the Lord asks. To evangelize we need the joy that the Lord gives us. The joy of the Lord is our strength. God gives us the grace we need and everything that goes with it."
This Body & Soul feature originally appeared in the August 2014 print edition of The Catholic Telegraph.