DePaul Cristo Rey set to graduate first senior class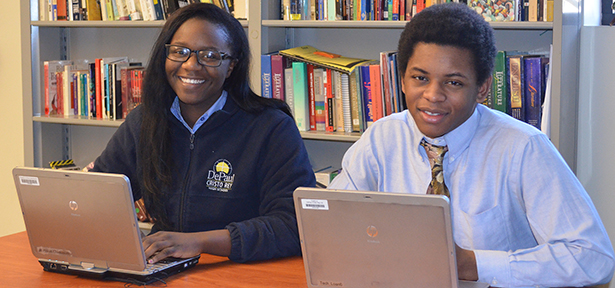 By Walt Schaefer
For The Catholic Telegraph
Aaron Carter plans to study psychology or criminal justice. Mary Ann Chimusoro aims to pursue a degree in anthropology.
These two seniors at DePaul Cristo Rey High School seek careers that will enable them to give back to their community because the Cincinnati community – primarily through the school's work study program – has empowered them to achieve success. 
Carter and Chimusoro are members of DePaul Cristo Rey's first graduating class of 51 students. More than two thirds of the class already has been accepted to college and 100 percent college acceptance is expected by the end of the academic year.
Carter said he will likely attend Berea College in Berea , Ky., where he has been accepted and the school is tuition free. He also has received scholarship offers from Xavier University ($14,000 a year); Mount St. Joseph University ($9,000) a year; and the University of Detroit ($15,000 a year).
"I want to go into the humanities," said Carter. "I've never had much in life and I want to give back to my community because so many people helped me get where I am today. I have thought about becoming  a social worker," said the 19-year-old who is one of 12 children. "Some of my siblings are in social work and I've seen them help people do so much. There are people who don't know how they could get by without a social worker. I want to make a change in people's lives."
Chimusoro, is a native of Zimbabwe who came to the United States when her father, Herman, a minister, was invited to serve at Life Temple, a Madisonville Pentecostal church. She lives weekends with her parents and weekdays at Boys and Girls Hope in Walnut Hills.
Chimusoro has received scholarship offers from the University of Kentucky and St. Louis University but hopes she soon receives a letter of acceptance from Franklin and Marshall, a small school in Lancaster, Pa. where "you get a more personal relationship with the teachers and you get to know the people in your classes." she said.
"I want to study anthropology. And then I want to get into physical therapy. I want to work in a hospital. My mom works at Christ Hospital now and worked at a hospital in Zimbabwe," Chimusoro said.
All Cristo Rey schools — and there are many nationwide  —  serve predominantly low-income families. "That is the crux of the Christo Ray schools, especially in a city like Cincinnati where we have wonderful diverse Catholic high schools," said Margee Garbsch, director of communications. "The issue which led to the opening of the school is that for many low income families those Catholic high schools are not acceptable. Our school is the affordable option for families looking for a Catholic college prep high school.
"The difference between us and a Purcell-Marian or Roger Bacon High School is that every one of our students is getting financial aid. They probably have some but not all of them receiving aid. With our school it is everyone."
Garbsch explained the financial aid "comes from grants, foundations and we have an advancement department. We are sponsored by the Sisters of Charity who obviously, by opening the school, have made a significant financial commitment to the school on behalf of the students. The other key piece which differentiates us from every other school is the work-study program. Students are working five days a month and what they are earning comes back to pay their educational costs."
During his four years, Carter said he worked for St. Elizabeth Physicians in Edgewood, Ky., E. W. Scripps Co., where he worked on the National Spelling Bee, sponsored by Scripps; Michael Schuster and Associates, an architectural firm and in the financial aid office at the University of Mount St. Joseph. Chimusoro has worked at the downtown corporate offices of Kroger in the human resources department.
When the school launched the program in 2011 there were 24 corporate sponsors. There and now 100.
"All of these kids have a work-study program and they are white-collar professional entry-level jobs.  They are in corporate or hospital or educational places doing predominantly entry-level kinds of office work," Garbsch said.
The Jesuits opened the first Cristo Rey school in Chicago in 1996.
"They came up with the idea of the corporate work-study program. Just as important as tuition is the interconnection students make between work and education and it introduces them to professional settings many of them would not otherwise see, professional role models they would otherwise not see, mentors to help them understand careers they made not have thought of."
Andy Farfsing, school principal since its inception, calls the 2014-2015 school year a milestone.
"It solidifies the future. Each year we have grown. It's helped us with enrollment as well. More families are understanding who we are, what we do." Enrollment now is 257; capacity is about 350.
"We have kids coming to us with all different academic stories. They come from 40 different elementary schools. There's a broad range of expectations. Some kids come in with a high level of academic expectation. Others don't come in with that experience, but typically the ones that come to us are seeking it.
"We have kids come to us who have never had to do homework before, simply because the schools they went to never assigned it… because nobody would do it. Those are cycles we have to break. The majority of students come to us because they don't want to be in next tier of what they've had before.
"We have one common academic goal – that all students will graduate from high school and college. That's our niche. That's our goal. It is what we do.  Our work-study program helps fund it."
This Catholic Schools Week story originally appeared in the February 2015 print edition of The Catholic Telegraph.