Throwback Thursday: Basketball Bishop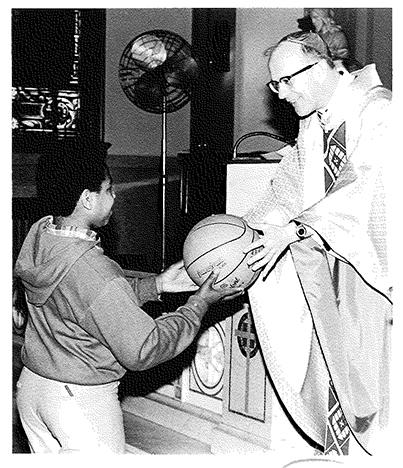 Staff Report
The Archdiocese of Cincinnati has a well-established Catholic Schools Week tradition of holding two Masses in honor of the occasion. One takes place in Cincinnati at the Cathedral, and the other takes place in Dayton with the Archbishop and his auxiliary alternating who celebrates each one.
In 1979, however, then-Bishop Daniel E. Pilarczyk, now Archbishop Emeritus, celebrated a special Catholic Schools Week Mass elsewhere. The photo with this Throwback Thursday post was likely taken at St. Pius. In the photo, Bishop Pilarczyk is presented with a basketball by a seventh grader from St. Pius School.
The cutline in the newspaper read, "A basketball was the gift seventh graders at St. Pius school offered at a special Catholic Schools week Mass. Craig Brown gives the ball, a symbol of school sports, to Bishop Daniel E. Pilarczyk.
Welcome to The Catholic Telegraph's edition of Throwback Thursday. Throwback Thursday is a weekly online activity wherein users of social media share an old photo or anecdote about times gone by. We use Throwback Thursday to highlight the history of the Archdiocese of Cincinnati, and our publication.
Recent Throwback Thursdays
Supporting life in every age
History of a famous clock
See the Top 10 stories of 2014
Archbishop Emeritus celebrates 40 years as bishop
A soldiers prayer on Christmas Day
Posted Jan. 29, 2014