DiCello named archdiocesan director of music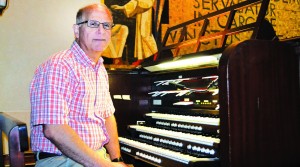 Archbishop Dennis M. Schnurr has named Anthony DiCello, music director at the Cathedral of St. Peter in Chains, as director of music for the Archdiocese of Cincinnati.
In his new role, which he will perform while continuing to serve the cathedral, DiCello will work with the Archdiocese of Cincinnati Worship Office and Director Karen Kane to oversee the musical needs of the archdiocese.
DiCello said the position includes coordinating the work of the archdiocesan music committee in providing educational programs, workshops, training and more. He will also serve as a consultant to pastors and musicians in their music-related needs regarding formation and ongoing education.
The position of archdiocesan director of music was last held by Haldan Tompkins, whom DiCello replaced as cathedral music director in 1994.
DiCello had been a faculty member at Mount St. Mary's Seminary and director of the Athenaeum Chorale from 1984 until leaving that position in June.
"As I conclude my 32 years of service in liturgical music formation with the Athenaeum's Mount St. Mary's Seminary, I look forward to my new work and role in our archdiocese," DiCello said. "I am grateful to Archbishop Schnurr for making this possible and for his support and commitment to the importance of the liturgical music needs of this archdiocese."
This story first appeared in the August 2016 print edition of The Catholic Telegraph.