Did you know? Holy Family Dayton
Written by Gail Finke, Illustrated by Emma Cassani
• 24 decorative knotwork squares between the flat beamed ceiling
• 3 rose windows installed, with all the windows crafted between 1936 and 1941
• 12 stained glass clerestory windows in the apse featuring angels based on the paintings of Fra Angelico
• 2 carved stone side altars to Mary and Joseph
• 1 bell tower
• 7 diamond-shaped medallions representing the sacraments behind the altar
• 3 statues between each set of clerestory windows: Christ and his Sacred Heart, St. Maria Goretti, St. John Vianney
• 1905 Parish founded
• 1925 Church built in a late Romanesque revival style
• 2010 Archbishop Schnurr invites FSSP priests to staff Holy Family
Holy Family in Dayton is the only exclusively Latin Mass parish in the archdiocese. It follows the pre-Vatican II liturgical calendar and celebrates the Tridentine Mass (or Extraordinary Form).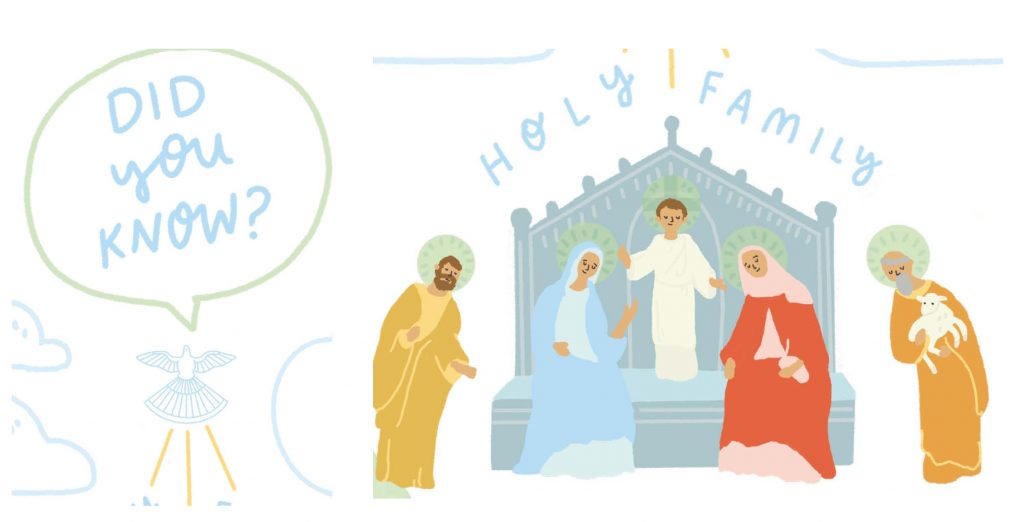 While the term "Holy Family" often refers only to Jesus, Mary and Joseph, the great painted vault over Holy Family's altar features the extended family of the Lord. Christ is shown as a child, beneath the hand of God and the dove of the Holy Spirit, watched over by angels and flanked by the Virgin Mary and her mother, St. Anne. St. Joseph and St. Joachim stand at their sides. Below them a stylized Tree of Jesse "blooms" with 22 medallions of figures from Jesus' royal lineage grows from the reclining figure of Jesse, father of King David.
"We are a liturgical choir, our role is to sing what the priest says at Mass and to pray as we sing it. We sing all the Masses in the Kyriale over the course of a year. No matter how deep you go in the liturgy, you can always go deeper, and the choir
is a piece in that puzzle. I feel so blessed to be part of that and to breathe life into old, old music. It's like having William Byrd sitting next to you—when you sing what they sang then, you feel what they felt." Amanda Gulick, Choir Director
FSSP
The Priestly Fraternity of St. Peter, a society of priests dedicated to celebrating the Tridentine Latin Mass
Corpus Christi
Holy Family is known for its European-style procession around the church over a route decorated with pictures made with dyed wood chips.
Parishioners walk behind the canopy carrying pictures and banners.
This article appeared in the July 2021 edition of The Catholic Telegraph Magazine. For your complimentary subscription, click here.