Did you know: Old St. Mary's Church in Over-the-Rhine (St. Marien Kirche)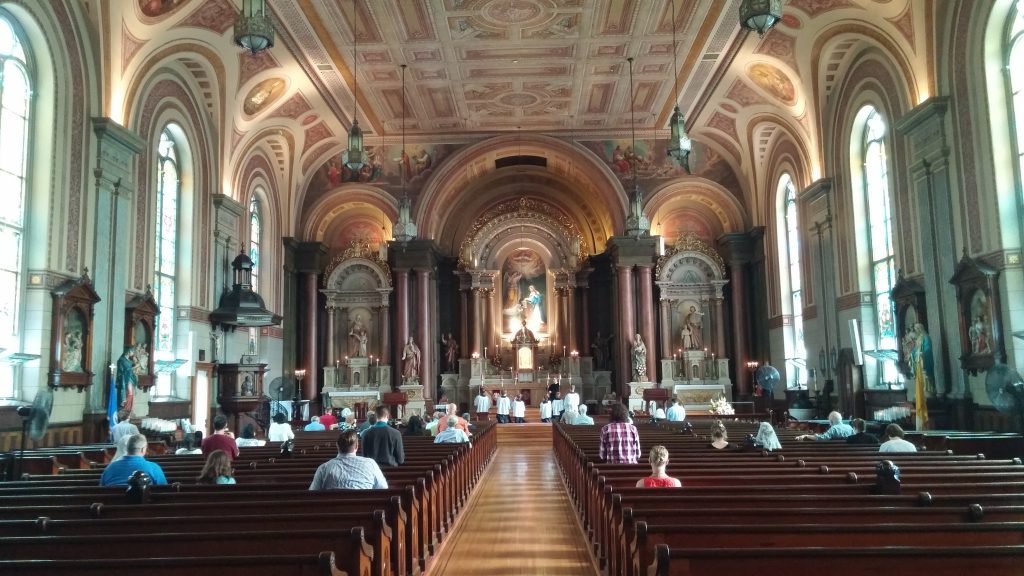 "I've been coming down here since the 1960s, and they've always had this rathskeller. It's an old tradition in Germany. They needed someone new to run it, so I've done it for probably 20 years now. In Germany, the farmers would come to town and have beer after Mass and talk about farming. Now we're the congregation, and we talk about anything! We get to know each other better.
–Volunteer Erwin Doble"
Old St. Mary's Church in Over-the-Rhine (St. Marien Kirche) has a weekly German Mass – followed by fellowship in a German-style "Rathskeller" in the parish basement, with German food and beer.
1841
The oldest church building in the region with one of the oldest clock towers in the country, Old St. Mary's laid its cornerstone on the Feast of the Assumption in 1841 and was dedicated on July 3, 1842. It was then the largest church in the Mississippi Valley. Cincinnati's Verdin Company installed its clock that year, its first documented installation.
PRIVILEGED ALTAR
The altar contains the bones of St. Martura, a female Roman martyr, in a crystal reliquary. In 1879, Pope Leo XIII granted it this status, which means a plenary indulgence for the soul of anyone whose requiem Mass is celebrated there.
THE CHURCH HOUSES
30+ Latin Sunday Vespers sung mid-October through June
3 LANGUAGES
Mass in German, English and Latin (both Ordinary and Extraordinary Forms)
6 MARIAN SHRINES line both walls of the Church
3 MARIAN PAINTINGS mounted on pulleys above the high altar. The 15-foot paintings are changed to match liturgical seasons.
441 HOLY RELICS
CINCINNATI ORATORY
Old St. Mary's is one of 70 Oratories of St. Philip Neri in the world.
"I live in Sharonville. A few years ago, a friend of mine brought me down to Bockfest, and I found out they had the only German Mass in the city. My heritage is German, and now I come every week. The rathskeller is all a part of that German tradition; you have a few beers for gemütlichkeit. – Parishioner Thomas Strain"
Old St. Mary's Church • 123 East 13th Street • Cincinnati, Ohio 45202 • 513-721-2988