Did you know? Saint Boniface Northside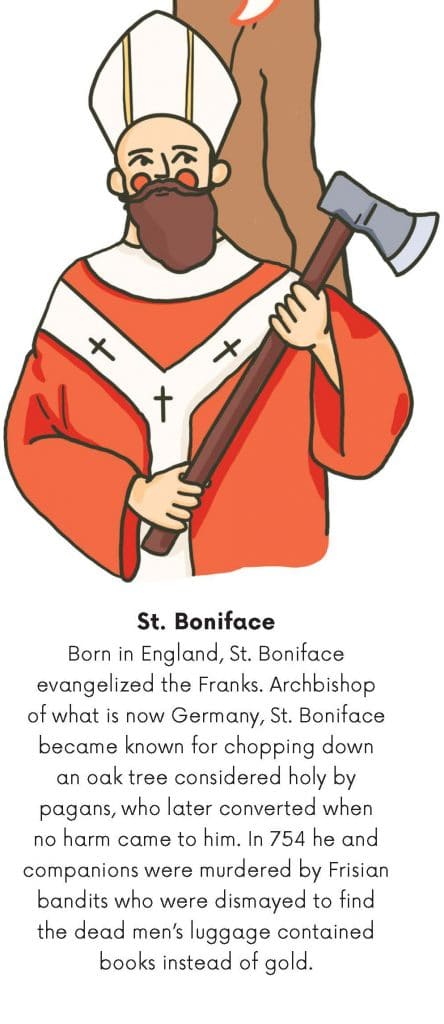 by Emma Cassani and Gail Finke
Four Chaplains Mass

Held every February for more than 40 years, the Four Chaplains Mass at St. Boniface honors the chaplains (a priest, a rabbi, and two ministers) who died together on the SS Dorchester in 1943. The service includes color bearers from the Boy Scouts, VFW, American Legion and all military branches; a rifle salute; a tribute to current service members and veterans; and a presentation of "Taps."
"We weren't able to have the Four Chaplains Mass this year because of Covid, but we get calls about it all the time. We tell everyone we're having it in 2022, if Covid permits it! Anyone and everyone is invited."
– Jenni Lindgren, Business Manager
"In the 1930s our school was placed on the official bomb shelter list, and we got a call every year from the government to see if it was still there. They only took us off the list less than 10 years ago, because it's not handicap-accessible and there are no showers."
– Jenni Lindgren, Business Manager
"I grew up in St. Boniface and went to school there. That place is a hidden gem in the city of Cincinnati. The stained glass windows alone are awe-inspiring."
– Bob Dehner, former parishioner
1853
St. Aloysius Parish founded.
1861
St. Aloysius splits into St. Patrick (Irish, on original site) and St. Boniface (German, on new site).
1863
First St. Boniface Church built.
1866
Father Joseph Paul Wittler, St. Boniface's first pastor, dies of pneumonia at age 37 after spending the previous three years raising money to build and complete the church.
1879
First St. Bonifice School completed.
1927
Current church built on new site in the Romanesque style, featuring an impressive baldacchino made of Italian marble beneath a golden half-dome and topped with a stained glass depiction of the Holy Spirit as a dove.
1933
Current school built.
1991
St. Patrick parishioners process to St. Boniface with their saint's statue to reunite the parishes in the St. Boniface building. St. Patrick pastor Father Joseph Robinson named pastor – as was his great-great uncle once – and remains so for nearly 30 years.
2019
St. Charles Borromeo Church in Carthage, largely Spanish-speaking, closes; most Spanish-speaking members move to St. Boniface.
This article appeared in the November edition of The Catholic Telegraph Magazine. For your complimentary subscription, click here.