Did you know? St Ann Groesbeck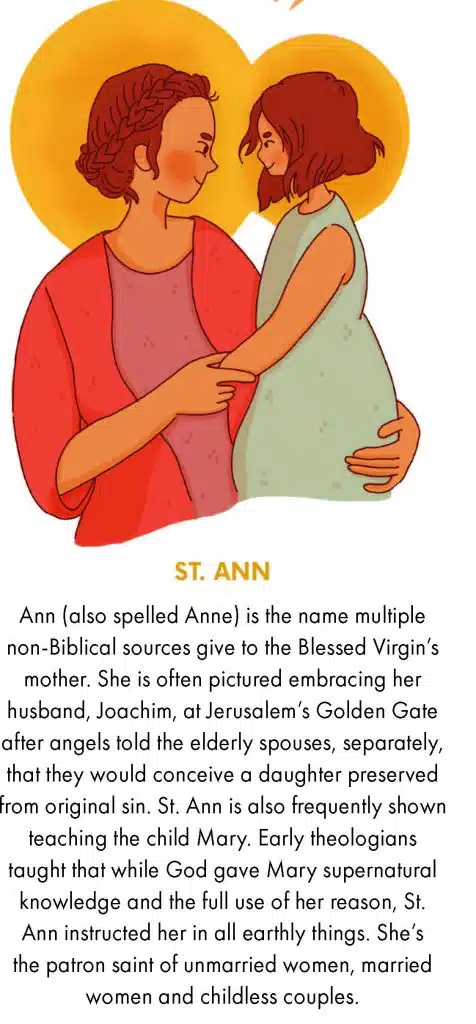 Written by Gail Finke Illustrated by Emma Cassani
St. Ann Church in Groesbeck built its school first, where it celebrated Masses for six years until the church was built.
1953
Parish established in June by Archbishop Karl J. Alter. Father James Lunn was the pastor. It was named for St. Ann Church in the West End. First Masses held at Groesbeck Community Hall.
1954
St. Ann School opened and run by the Sisters of St. Francis (Sylvania, OH).
1955, 1956
Convent and rectory built.
1959
Church dedicated. It was built of brick and concrete in a spare, modern style.
1961
Ten-room school addition opened.
1980
Church renovated and new Monsignor Lunn Parish Center dedicated.
2004
Church renovated.
2008
Several parish schools consolidated. St. Ann School reopened as Our Lady of Grace. As of 2022, the school serves children from nine school districts.
2010
Dedicated grotto and Prayer Walk, featuring Stations of the Cross and benches.
2013
Convent/Friary converted to offices and meeting rooms and renamed the St. Francis Center.
2015
Began Church enhancements, including a renovated sanctuary with painted barrel vault and sanctuary windows. Chapel converted to baptistery; it has stained glass windows representing the seven sacraments.
9 Days of the annual St. Ann Novena, celebrated with daily Masses leading up to the Feast of St. Ann on July 26.
2 Major stained glass windows featuring Melchizedek and Christ.
"God is good all the time. All the time God is good." Motto flanking the sanctuary in gilded letters.
St. Ann, West End
Organized in 1866, St. Ann was an African-American parish originally located on Longworth Street between Race and Elm streets. It moved locations several times before merging with St. Edward in 1938, and closed in 1965.
"The enhancements were done in stages, starting with putting the tabernacle back in the center, and focusing on what God does for us in the sacraments. The main windows depict Melchizedek, the 'Priest of Righteousness,' and Christ, the true Priest of Righteousness, who offers sacrifice for the world. Our bodies and souls are both eternal, and a church should have a beautiful 'body' that leads our souls to contemplate eternity."
– Father Tom McCarthy, pastor during renovations
"The starry ceiling represents the dome of the sky and God's promise to Abraham. They're shown during daytime because the Lord asked [Abraham] to count the stars during the day. It takes faith to believe the stars are out there even when you can't see them."
– Father Tom McCarthy, pastor during renovations