Did you know? St. Monica St. George
St. Monica Is the mother of convert St. Augustine. She is the patron saint of alcoholics, conversion, wives and mothers.
St. George Is the patron of farmers, soldiers, archers, equestrians, chivalry, skin diseases and shepherds. A triptych of the saint from the church fits exactly on the building's only remaining undecorated wall.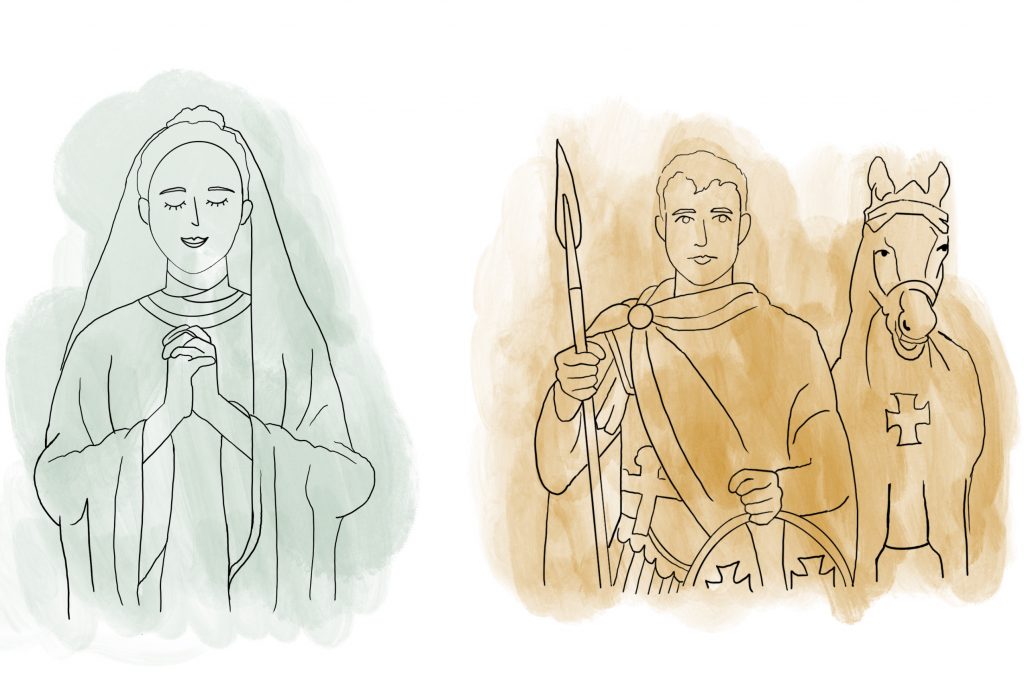 1911 – Parish of St. Monica established.
1928 – St Monica Church dedicated at Christmas.
1938 – The Cathedral of St. Peter in Chains became too dilapidated to use, and Archbishop McNicholas moved the cathedra to St. Monica, where it remained until 1957.
St. Apollinare
This basilica in Ravenna, Italy, was the model for this building, designed by architect Edward Schulte in a Byzantine-influenced, neo-romanesque style.
$250,000
Was the cost of the original church (the stained glass from Germany cost $25,000, or 10%).
$280,000
Was the cost to clean the stained glass windows earlier this century.
Franciscan ties
St. George, a Franciscan parish, merged with St. Monica in 1993 and the friars have continued their ministry there.
Newman Center
The church is home to the University of Cincinnati's campus ministry and a large number of Mass-goers are students.
Solar energy
LED lighting and a solar array added in 2017, paid for entirely by parishioners, made the parish the first in the area to make a major investment in solar energy.
Nearly every inch
of the church is decorated by elaborate painting and stencillings added in the 1930's.
St. Monica-St. George Church in Clifton was the Archdiocese of Cincinnati's cathedral for almost two decades.
"Beautiful as the church is, St. Monica-St. George is special because of the people. This is a parish that has such a giving spirit. We just celebrated our 25th anniversary [after the merger] and our theme was 'All are welcome, all belong.' That sums up this place." — Father Al Hirt, OFM, pastor